Warner Bros To Release Four Movie DVD Packs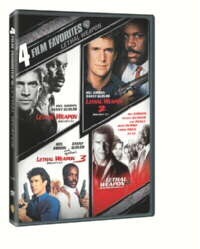 Scott Weinberg at Cinematical has tipped me off to Warner Bros plans to release Quadruple Feature DVD discs on November 7th. WB lists the single DVD case releases at $14.95, but I'm guessing the big retail stores might even offer them for less. Not bad for four movies. Here are a couple of the more interesting releases:
Children's Fantasy — Five Children & It (2004), The Neverending Story (1984), The Secret Garden (1993), The Witches (1990)
Extreme Action — Eraser (1996), The Last Boy Scout (1991), Passenger 57 (1992), Point of No Return (1993)
Horror — Bad Moon (1996), Body Snatchers (1993), Coma (1978), Wolfen (1981)
Lethal Weapon — Lethal Weapon (1987), Lethal Weapon 2 (1989), Lethal Weapon 3 (1992), Lethal Weapon 4 (1998)
New Line Romantic Comedy — The Bachelor (1999), Bed of Roses (1996), Don Juan DeMarco (1995), Laws of Attraction (2004)
Stephen King — Cat's Eye (1985), Creepshow (1982), Dolores Claiborne (1995), Dreamcatcher (2003)
Steven Seagal — Above the Law (1988), Fire Down Below (1997), The Glimmer Man (1996), Under Siege (1992)
Sylvester Stallone — Demolition Man (1993), Over the Top (1987), The Specialist (1994), Tango & Cash (1989)
Thrillers — Copycat (1995), The Crush (1993), Diabolique (1996), Pacific Heights (1990)
All four Lethal Weapons films for under $15 bucks? Not too shabby. The releases appear to contain two DVD discs, which I assume are double-sided (one movie per side). This type of thing also makes me a little sad because it seems like an obvious move to collect a last few bucks before the format dies.