12 To 18 3D Movies Per Year By 2010?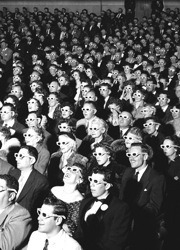 Tuesday morning at ShowEast in Orlando, DreamWorks Animation's Jeffrey Katzenberg told an audience full of theater owners that there is expected to be 12 to 18 full 3D movies by 2010. FirstShowing reports that Katzenberg said that movie theaters can expect there to be "5, 6 or 7 'Super-A' titles" in full 3D, with 2 to 3 being from DreamWorks, in 2009. And in 2010 that number would increase 2 to 3 times, bumping the total up to around 12 to 18 respectively.
I've always believed that 3D is good for cinema. In a day and age when less people are making the trip to the multiplex, and instead opting to watch a DVD or movie on demand in their comfortable home theater, there is a value in the 3D movie. But Katzenberg must remember that the reason why 3D movies are doing well is because they are treated like an event. I fear that if there are 12 to 18 3D movies released each year, the technology and experience will become less special. And 5 – 7 "Super-A" titles seems like a realistic goal, but 12 to 18? First of all I don't think there are 18 "Super-A" titles released each year that could benefit from the 3D experience.