Timecop Remake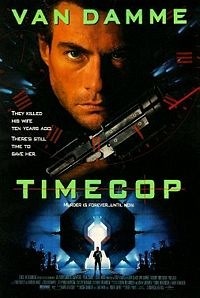 "They killed his wife ten years ago. There's still time to save her. Murder is forever...until now."
Our buddies at IESB are reporting that Dark Horse Entertainment and Universal are looking to go into production on a remake of Timecop. Aside from the 90's cheese and Jean-Claude Van Damme, the movie is a guilty pleasure of a lot of film fanatics.
The film broke $100 million worldwide (Van-Damme's highest grossing film of all time) and spun off into a short lived television series (nine episodes on ABC in 1997). In 2003, a direct-to-dvd sequel titled Timecop 2: The Berlin Decision starring Jason Scott Lee and Thomas Ian Griffith was released.
In the original film, Van Damme played a Time Enforcement Agent, part of a specialized police organization. Conflicted because he knows it is possible to prevent his wife's death, however his job as a Time Enforcement Agent prevents him from acting on such a prevention.
The concept is better than the sum of its parts, and with a good screenwriter, it could be a summer tentpole film. Hopefully they won't go all B-movie on us. The good news is that Van-Damme is not being brought back for the reboot, and that IESB claims that the actor currently circling the role is "100% bad ass and one of the coolest action stars of today."