SAW Marathon Screenings In Select Cities On October 25th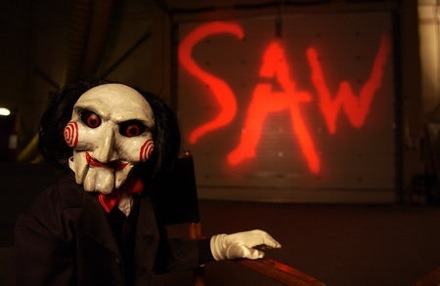 Lionsgate is running a SAW marathon in some cities on October 25th starting at 6:00pm. So if you want to see the whole Jigsaw series from the beginning, this may be your chance. I'm not sure exactly how this will be run, if there will be a break or intermission (I assume that will be the case), but it seems like a great idea. And SAW 4 will be shown at midnight, how great is that? I wish more movie franchises would do something like this.
When I met with Steven Spielberg last week, he was asked about the possibility of seeing the originally Indy trilogy on the big screen prior to Crystal Skull. And while, he wasn't totally against the idea (he seemed excited about the possibility for  a few seconds), he said he is concerned that a large scale rerelease would take the event type feeling away from the fourth film. He was worried that if people could go to the theater to see Indy on the big screen, Crystal Skull wouldn't be as special.  While I agree, I think Lionsgate is handling it right.
You buy one extremely overpriced ticket for the night before at 6:00pm, and get to watch the trilogy back-to-back. And then at midnight, Indiana Jones and the Kingdom of the Crystal Skull. I think if you did this in every major city, you could pack at least one theater for the whole eight hour marathon.
You can check your local area for SAW Marathon tickets on Fandango.com.