Charlie Wilson's War Movie Trailer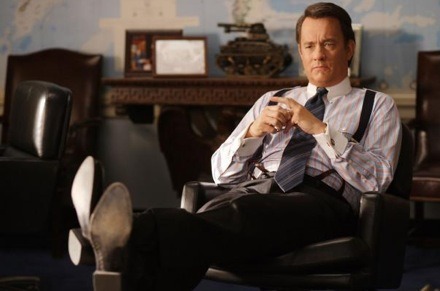 Universal has released a new trailer for Charlie Wilson's War, which is directed by Mike Nichols (Closer, The Graduate, The Birdcage) and stars Tom Hanks, Julia Roberts, Phillip Seymour Hoffman, Amy Adams, Om Puri, Jud Tylor and Nazanin Boniadi. Based on George Crile's book about the CIA's largest and most successful covert CIA operation, War follows a Texas congressman Charlie Wilson's (Hanks) who teamed with a rogue CIA operative (Hoffman), to manipulate Congress, the CIA and a other foreign governments in order to assist the Afghan rebels in their fight against the Soviets in the 1980s.
I've heard that Phillip Seymour Hoffman will get a Best Supporting Actor nomination for this one. And it looks great, and has some big names, but the real question is: Will people buy tickets to another war film? Sure, this isn't about the Iraq war, it's set almost 30 years ago, but the box office (and buzz coming out of the Toronto Film Festival) suggests that people aren't interesting in another war film.
Check out the new trailer after the jump.
[flv:http://media2.slashfilm.com/slashfilm/trailers/charliewilsonswar.flv 470 254]
You can also watch the new trailer in High Definition at Yahoo! Movies. Charlie Wilson's War hits theaters on December 25th 2007.