Confessions Of A Superhero Movie Trailer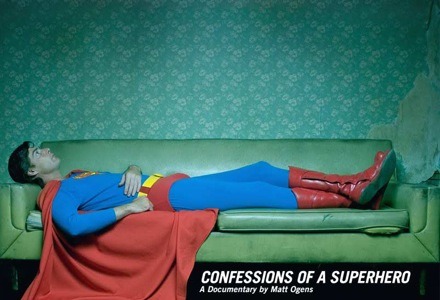 Matt Ogens' documentary Confessions of a Superhero premiered at SXSW 2007, and is scheduled to be released in theaters courtesy of Arts Alliance America and Red Envelope Entertainment starting November 2nd 2007. You might recognize these characters from the Jimmy Kimmel show. They are a group of people who make their money dressed as superheroes, taking photos with tourists outside the Manns Chinese Theater. I really want to catch this film. Matt Dentler tipped us off to the film's new theatrical trailer, which is available for your viewing after the jump.
Plot Synopsis:
A feature length documentary that chronicles the lives of three mortal men and one woman who make their living working as superhero characters on Hollywood Boulevard. This deeply personal look into their daily routines reveals their hardships and triumphs as they pursue and achieve their own kind of fame. The Hulk sold his Super Nintendo for a bus ticket to LA; Wonder Woman was a mid western homecoming queen; Batman struggles with his anger, while Superman's psyche is consumed by the Man of Steel. Although the Walk of Fame is right beneath their feet, their own paths to stardom prove to be long, hard climbs. CONFESSIONS OF A SUPERHERO explores the fascination, obsession and allure of fame through the eyes of some very unique people struggling to make it in Tinseltown.