USA Network's Thank You For Smoking TV Series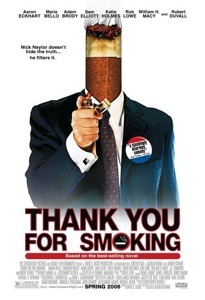 When I first saw Jason Reitman's Thank You For Smoking at its Eccles Theater Sundance Film Festival premiere, I wondered out loud to a friend what a television series based on the film would be like. The film starred Aaron Eckhart as a chief spokesman of a big tobacco company with the seemingly impossible task: promoting cigarette smoking in a time when the health hazards of the activity have become too plain to ignore. The satirical comedy was nominated for 2 golden globes and was probably one of the best independent films of that year. But would the character of Nick Naylor be good enough to sustain a television series? I thought so, and apparently USA Network believes so as well (even after NBC passed up the concept last year).
The television show will likely go by a different title due to the potential problems associated with marketing a series with a pro-tobacco name (sure, we understand the joke, but many people likely would not). James Dodson (Damage Control) is writing the script for the project, which will pick up where the 2006 feature film left off.
Nick Naylor, having kicked some of his more evil lobbyist habits, will use his rhetorical skills to help people more deserving of aid.
"He'll live somewhere between the morally ambiguous character of the movie and Robin Hood," said USA programming chief Jeff Wachtel told Variety.
But the series won't function unless they are able to tap an actor with the charisma and energy that Eckhart displayed in the 2006 film. So the question now becomes: does USA Network have the money to secure a quality star to this new series, and if not, will their casting director be able to pick out a gem from the field of unknown talent?