Pixar Confirms John Carter Of Mars Trilogy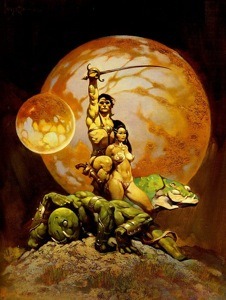 The guys at Pixar have apparently made a trip to Edgar Rice Burroughs archives, doing research for a trilogy of John Carter of Mars films. That's right, they are planning not one, but three films based on Burroughs work. In attendance for the trip: director Andrew Stanton, the director, Mark Andrews, screenwriter and producer of Wall-E / Pixar executive Jim Morris. So it appears that is the creative team on John Carter.
The Pixar team also confirmed to EBZine that the first John Carter film would hit theaters before 2012 (presumably because the world is supposed to end in 2012, or maybe there was just an opening on the schedule, which is probably more likely).
As of right now, this is what Pixar's future looks something like:
June 27, 2008: WALL-E, Andrew Stanton (writer/director of Finding Nemo)
2011-2012: Which leaves John Carter of Mars and possibly Brad Bird's adaptation of 1906 (unannounced).
A Princess of Mars was first published in 1917. The movie will follow Civil War vet John Carter, who is transplanted to Mars, where he discovers a lush, wildly diverse planet whose main inhabitants are 12-foot tall green barbarians. Finding himself a prisoner of these creatures, he escapes, only to encounter Dejah Thoris, Princess of Helium, who is in desperate need of a savior.