First Look: AstroBoy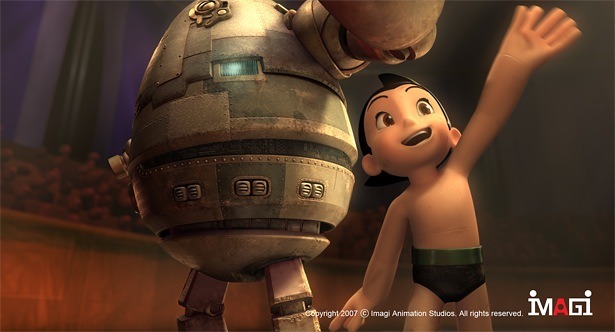 Imagi Animation Studios, the guys responsible for the recent computer animated TMNT film, are making a big screen computer animated adaptation of AstroBoy and Gatchaman. I know, I know – this is not anything new, but today the folks at Imagi have released a cool high resolution still from the upcoming AstroBoy movie. Our friends at FirstShowing got their hands on the still, seen above.
It originated as a manga in 1951 by Japanese manga artist Osamu Tezuka, who is often reputed as the "god of manga" The manga spawned an anime television show which was first broadcast in Japan from 1963 to 1966. After enjoying success abroad, Astro Boy was remade in the 1980s as Shin Tetsuwan Atomu, known as Astroboy in the United States and other Western countries, and again in 2003. For a time, Astro Boy enjoyed a level of popularity in Japan equivalent to Disney's image character Mickey Mouse.
Set in a futuristic world where androids co-exist with humans, AstroBoy follows the adventures of the nominal "Astro Boy", a powerful robot boy created by a brilliant scientist to replace his son Tobio, who died in a car accident.
AstroBoy animation acting director Jakob Jensen told Hollywood Reporter that Imagi is being faithful to Tezuka's original story arc, at the same time bringing out elements needed for those unfamiliar with the story.
"'Astro Boy' utilizes very classical story principles of the hero's journey that we see in all good storytelling around the world," Jensen said. "Astro Boy has the moral underpinning and strong emotional resonance that a lot of animation today is lacking."
Astro Boy is set for release in 2009. You can also check out the previously released poster (which we for some reason never before posted) after the jump.