IMDb Launches Character Profile Pages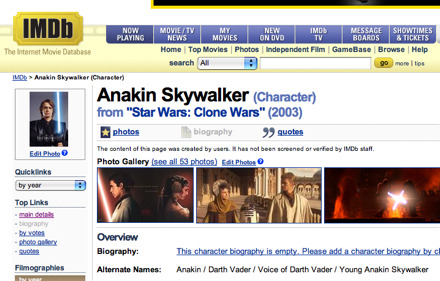 I wouldn't be able to function without the Internet Movie Database, especially in my job as a movie blogger. And the site doesn't ever change, throughout the past few year's the features have virtually remained the same. Well yesterday they launched a new feature: Character Profile Pages. The main features of a character page can include:
A character filmography showing all titles in which the character has appeared and by whom the character was played
A biography describing the character's background and optionally covering character trivia points or details of specific portrayals
A photo gallery showing all the photos available for that character from the IMDb photo galleries
A head shot chosen from the photo gallery to remind you of a specific instance of the character
All the quotes spoken by this character from the IMDb quotes database
The title of a recent or representative movie/TV show/game in which the character appeared
A list of alternate names for the character covering the variations in how that character has been billed in the credits of their titles
For example, the first entry is Jesse James, portrayed most recently on celluloid by Brad Pitt in The Assassination of Jesse James by the Coward Robert Ford. But did you know that Jesse James also made an appearance on the tv show MacGyver, or a 1977 episode of Little House on the Prairie? And we're not talking about Brad Pitt, we're talking about the fictional character – Jesse James. I'm not quite sure anyone needs to know this information, but now it is available.
Where this type of thing can become useful is with certain fanboy characters that stretch between different mediums and series. For example, Anakin Skywalker has appeared in 26 different movies, tv shows and video games, with or without the mask. I almost wish this new feature also included book series, but that would probably be a huge undertaking.