Killing Pablo Finally Gets The Greenlight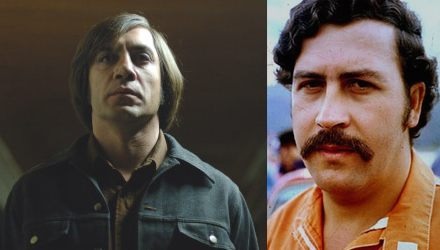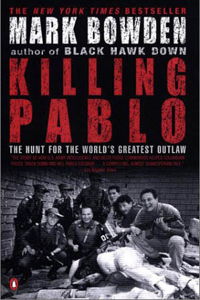 The Yari Film Group is fast-tracking Killing Pablo with Christian Bale (Batman Begins) and Javier Bardem (No Country for Old Men) set to star. The Pablo Escobar bio-pic has been in development for nearly five years, and was originally set-up at Paramount. Joe Carnahan (Smoking Aces) is still attached to direct. Bardem is slated to play Escobar, while Bale is in talks to play Major Steve Jacoby, the Delta Force commander who led the hunt for Escobar. Everyone agrees that Bardem is incredible in the new Cohen Brother's movie.
The Escobar story has also influenced countless movie and video game storylines. I'm guessing that the Entourage storyline which involved a Escobar biopic might have been responsible for the renewed interest. Medellin, the fake movie within the show, was greeted by horrible reviews at the Cannes Film Festival in the season finale storyline. Let's hope that Carnahan's version will be better received.
Based on Black Hawk Down author Mark Bowden's book, "Killing Pablo: The Hunt for the World's Greatest Outlaw" is a tour de force of investigative journalism-this is the story of the violent rise and fall of Pablo Escobar, the head of the Colombian Medellin cocaine cartel. Escobar's criminal empire held a nation of thirty million hostage in a reign of terror that would only end with his death. In an intense, up-close account, award-winning journalist Mark Bowden exposes details never before revealed about the U.S.-led covert sixteen-month manhunt. With unprecedented access to important players-including Colombian president C&eacutesar Gaviria and the incorruptible head of the special police unit that pursued Escobar, Colonel Hugo Martinez-as well as top-secret documents and transcripts of Escobar's intercepted phone conversations, Bowden has produced a gripping narrative that is a stark portrayal of rough justice in the real world.
The Los Angeles Times called the book: "The story of how the U.S. Army Intelligence and Delta Force commandos helped Colombian police track down and kill Pablo Escobar is a compelling, almost Shakespearean tale."
Yari told Variety that the film could begin shooting as early as June 2008, if SAG doesn't go on strike (June 30 is the deadline). If a SAG strike does happen, the production will be delayed until after the work stoppage.