Shoot 'Em Up Sequel Gets A Greenlight? Nope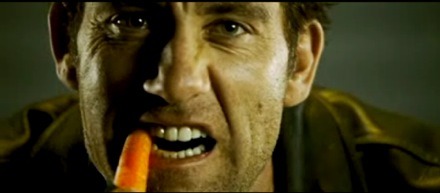 Update: This story has now been confirmed as False.Shoot 'Em Up was one of the many of a few great Hollywood films that somehow failed to find an audience this year (Grindhouse, anyone?). A couple months ago we told you that writer/director Michael Davis had already completed a screenplay which could function as a sequel or a completely unrelated action film. We lost hope for the sequel when the first film failed to make more than $12 million at the box office.
But our friends at FirstShowing are reporting that "the script was turned in and approved and it is in pre-production and the leading actors have signed on for the second film." The film is being fast tracked for a pre-strike production, which means Shoot 'Em Up 2 is likely to hit theaters late next year. But the question is: Is it a Shoot 'Em Up sequel, or has it been edited into an entirely unrelated action film.
Clive Owen just began production on The International, which isn't likely to wrap by year's end. And Owen is currently scheduled to start filming The Boys Are Back in Town early next year. So I think it's safe to assume that Owen is not part of this "sequel".