Release Date Change: The Day The Earth Stood Still Remake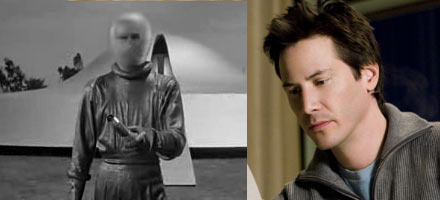 20th Century Fox has decided to move Scott Derrickson's remake of the classic 1951 sci-fi action film The Day the Earth Stood Still, from Summer to Winter. The film starring Keanu Reeves as an alien visitor named Klaatu, will now hit theaters on December 12th 2008. The movie was originally scheduled to go head to head on May 9th with The Wachowski Brother's Speed Racer. While this sounds like a smart business move, it actually has nothing to do with competition. The Day the Earth Stood Still hasn't even begun principal photography, and was moved because it couldn't meet the Summer release deadline.
The remake will be directed by Scott Derrickson (The Exorcism of Emily Rose, Hellraiser: Inferno) from a script by David Scarpa (The Last Castle). The original 1951 Robert Wise film was considered one of the best Science Fiction films of all time (#7 on Arthur C Clarke's List) and was debated for it's religious symbolism and many interpretations. Bernard Herrmann score is also notable, partly because of its use of two theremins. The film is currently ranked #187 of all time on IMDb, with a 8.1 rating.
sources: Variety