Jessica Biel In Talks To Play Wonder Woman In Justice League Of America?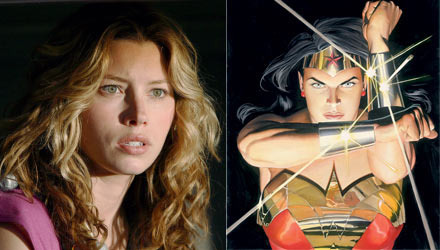 The question of the week has now become: Who will play Wonder Woman in George Miller's Justice League of America live-action movie. Yesterday we reported that Australian actress Victoria Hill had recently auditioned for the role. And now EW's industry sources are saying that Jessica Biel (The Illusionist, The Texas Chainsaw Massacre) is in talks to swing the lasso of truth. Biel's reps say that it's way too early to know if a deal will happen, and Warner Bros. won't confirm the rumor, of course.
But isn't Biel just a little too small for the role? The superhero is probably best known for her curvaceous long legs, but Jessica is only 5'7½" and that's according to her publicity materials (read: probably shorter). The modern day Wonder Woman character stands around 6'3" while the older version was much shorter (5'11" was "amazonian" height for a woman in the 1960's).
Biel hasn't really impressed me, and neither has the concept/character of Wonder Woman (invisible plane? lasso of truth?), although if you're going to do it at all – do it right. I hope that Warner Bros finds someone much more suitable for this role.