Wes Anderon's Hotel Chevalier On iTunes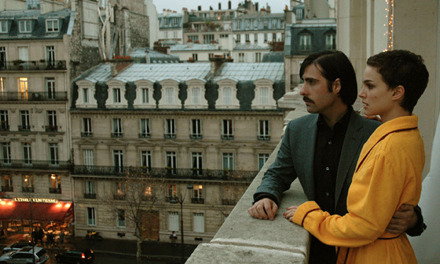 Update: The short film is NOW available online.
We've talked at length about the 17-minute Wes Anderson short film Hotel Chevalier which supposedly features a nude Natalie Portman and (a non-nude) Jason Schartzman in a semi-prequel to The Darjeeling Limited. The short which is being shown at festival screenings of Darjeeling, won't be attached to the theatrical release.
We just got word that the film will premiere to the public at four Apple Stores (Los Angeles, New York, Chicago, and San Francisco) on Tuesday. So if you're in any of those cities, you might want to head down to your local minimalist white and glass computer shop to see Anderson's short film. But fear not lazy friends, the short will become available for free on the Apple iTunes movie store the next day, and will also be available on the eventual Darjeeling DVD release.
However, the LA Times is reporting that Anderson would like to add the Hotel Chevalier short to the theatrical showings after the first few weeks (the same type of stunt was done to Napoleon Dynamite).
'We were unsure how this needed to be presented,' he said. 'We felt they should be connected and searched for how to do that. In the end, I liked the idea that one person could see it in one way, and another could see it in totally another way.'"
Update: full press release after the jumo.
Wes Anderson's short film "Hotel Chevalier" (part 1 of THE DARJEELING LIMITED) will exclusively premiere in four select Apple stores on Tuesday, September 25. Writer/Director Wes Anderson, actor Jason Schwartzman and actress Natalie Portman will appear in the Apple Store SoHo to introduce the film and host a short Q&A following the screening; Roman Coppola (co-writer, DARJEELING) will introduce the short at the Apple Store North Michigan Avenue (Chicago). The after hours events will also take place at the Apple Store Third Street Promenade (Santa Monica) and Apple Store San Francisco (Union Square). Beginning on September 26th, following the in store premiere, "Hotel Chevalier" will be available as a free download exclusively on iTunes (www.itunes.com ). Guests interested in attending the in store events should go to www.apple.com/retail for store event calendars for each location.
"Hotel Chevalier" is a short film set in a hotel room in France starring Jason Schwartzman and Natalie Portman. It is the brief coda to a doomed romance and the prologue to THE DARJEELING LIMITED.
In director Wes Anderson's THE DARJEELING LIMITED, three American brothers who have not spoken to each other in a year set off on a train voyage across India with a plan to find themselves and bond with each other — to become brothers again like they used to be. Their "spiritual quest", however, veers rapidly off-course (due to events involving over-the-counter pain killers, Indian cough syrup, and pepper spray), and they eventually find themselves stranded alone in the middle of the desert with eleven suitcases, a printer, and a laminating machine. At this moment, a new, unplanned journey suddenly begins. Owen Wilson, Adrien Brody, and Jason Schwartzman star in this film about their adventure and their friendship.
THE DARJEELING LIMITED was written by Wes Anderson & Roman Coppola & Jason Schwartzman, produced by Wes Anderson, Scott Rudin, Roman Coppola and Lydia Dean Pilcher and executive produced by Steven Rales.