Will Michael Bay Direct 2012: The War For The Souls Next?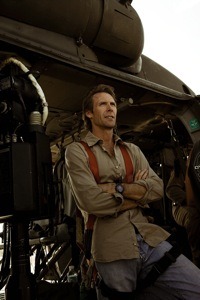 Science Fiction novelist Whitley Strieber has confirmed long running rumors that Transformers helmer Michael Bay is interested in directing a film adaptation of 2012: The War for the Souls.
"I don't know if he will direct it for sure, but I know he is interested in directing it," Strieber told SciFi. "Michael Bay's company did buy the rights to 2012, though, and he will at least produce it."
It was first reported back in March that Bay was eyeing 2012 as his follow-up to Transformers. It was later reported that Bay would re-team with producer Jerry Bruckheimer (Bad Boys, The Rock, Pearl Harbor, Armageddon) to direct the big screen adaptation of the popular video game Prince of Persia: The Sands of Time. This weekend news broke that Bay had signed on for a Transformers 2, which was being targeted for a Summer 2009 release. Persia is also being groomed for a Summer 2009 release, which makes me believe that Bay isn't doing Persia. The Armageddon director wrote on his blog last week that he might "jump ship" from the Transformers sequel to do a movie before the big Hollywood strike which is scheduled for early next year. Could 2012 be that film?
2012: The War for the Souls is about a door to a parallel Earth that opens on December 21, 2012, the infamous fate prophesized by Nostradamus and the Mayan calendar as the end of the world.
credit: SciFiWire