Friday Box Office: Resident Evil $22M 3-Day; Eastern Promises Strong; Into The Wild Huge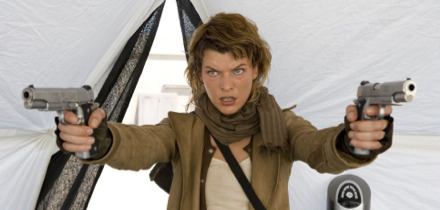 As expected, RESIDENT EVIL: EXTINCTION will easily win the weekend topping GOOD LUCK CHUCK. David Cronenberg's EASTERN PROMISES has expanded strongly, and Sean Penn's INTO THE WILD has opened huge. THE ASSASSINATION OF JESSE JAMES... had a so-so opening, and THE JANE AUSTEN BOOK CLUB is a disappointment.
The third and, reportedly, final chapter of the RESIDENT EVIL Trilogy will coast to an easy weekend win. After grabbing $8.8M on opening day, it will likely finish the frame with $22M, which is in line with industry expectations. Sony's RESIDENT EVIL: EXTINCTION will easily surpass the original 2002 film, which opened to $17.7M, but it will probably fall short of 2004's RESIDENT EVIL: APOCALYPSE, which enjoyed a $23M opening.
Despite unbelievably bad reviews, GOOD LUCK CHUCK (Lionsgate) has grabbed a respectable $4.4M, and thanks to Jessica Alba's body and Dane Cook's MySpace friends, it should finish with an estimated $12.54M. THE BRAVE ONE (Warner Bros) added $2.3M on Friday, putting it just shy of $20M for its first 8 days of release. The Jodie Foster thriller is headed for a $7.47M 2nd weekend.
The critically-acclaimed David Cronenberg film EASTERN PROMISES (Focus Features) has expanded powerfully to 1,440 locations, churning up $1.9M in Friday ticket sales. That's 4th for the day, but it will likely finish at #5 for the 3-day. The Russian mob yarn starring Viggo Mortensen is on its way to a $6M weekend and a 3-day PTA of $4,330. Meanwhile, 3:10 TO YUMA (Lionsgate) picked up another $1.8M to start the weekend, but it should edge PROMISES for #4 for the 3-day with approximately $6.12M.
The other wide new release, SYDNEY WHITE (Universal) starring Amanda Bynes, is a non-starter with just $1.75M on opening day. It'll wrangle less than $5M worth of tweens and teens for the weekend.
3 more Oscar caliber specialty films arrived in limited release today, and the big winner is Sean Penn's INTO THE WILD (Paramount Vantage). Based on Jon Krakauer's bestseller of the same name, INTO THE WILD opened at 4 locations Friday with an astounding $13,850 Per Theatre Average. Featuring a remarkable performance by Emile Hirsch, the adventure film will wrap up the weekend with nearly $175,000 or $43,600 per. The news was not as good for 2 other entries into the Oscar derby.
THE ASSASSINATION OF JESSE JAMES BY THE COWARD ROBERT FORD (Warner Bros), a movie that has sharply divided critics and moviegoers, managed a Friday PTA of just $8,364 at its 5 locations for just under $42,000. Starring Brad Pitt and Casey Affleck in the title roles, ASSASSINATION will manage a weekend take of only $130,000 for a 3-day PTA of $26,000 or so.
THE JANE AUSTEN BOOK CLUB (Sony Classics) is off to an underwhelming start. With a nice ensemble cast including Maria Bello and Emily Blunt, Sony Classics has been hoping for a mainstream hit, but it managed only the 6th-best Per Theatre Average on Friday, and it's headed for a disappointing $139,000 on its 25 screens for the 3-day.  That would mean a PTA of just over $5,500.
Julie Taymor's ACROSS THE UNIVERSE (Universal) expanded to 276 locations, and the Beatles-inspired musical generated $570,000 in Friday sales. It should reach $1.5M for the weekend, finishing just outside the top 10. IN THE VALLEY OF ELAH (Warner Independent) expanded with less success. The Iraq War-themed drama managed only $270,000 Friday at its 317 locations for a PTA of only $850. ELAH appears to be headed for just under $900,000 for the weekend for a 3-day PTA of just $2,811.
Finally, TRANSFORMERS is back in the Top 10 for Per Theatre Average thanks to the addition of IMAX locations from coast-to-coast. The Michael Bay-directed, Hasbro-inspired action pic scored a $928 PTA on Friday, and it'll grab another $1.3M or so this weekend, driving its domestic cume to $313.4M.
Click here to read more on FantasyMoguls.