Movie Review: Transformers IMAX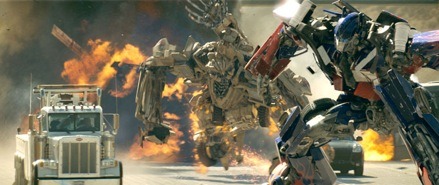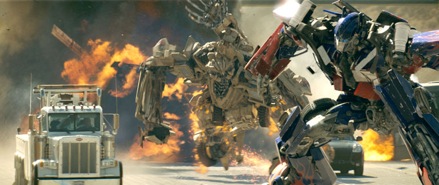 In a summer of threequels and big budget tentpoles, Transformers was probably my favorite movie of the bunch (blockbuster tentpoles). And now the film is being rereleased on the IMAX screen with a few more minutes of footage, and a hell of a lot more screen space. For the most part, the IMAX version is not much different from the theatrical release from July. The extra added footage is also human centered. There is no new footage of big robots to be found.
I was able to count 6 extended sequences in the film which includes:
An extra segment where Sam arrives with his new car at his friend Mile's house before they go cruising for the lake party.
The police show Sam the "This is your brain on drugs" advertisement before letting him leave the police station with his father.
John Turturro's character submits Sam to a eye lie detection test in the car before Optimus shows up.
There is a short but funny exchange about Area 51 before they enter the Hoover Dam.
There is a briefly added introduction to the Allspark sequence.
Lennox is shown pleading with the owner of a pawn shop to give him some short-wave radios.
As you can see, there isn't much of added value content in this IMAX extended edition. That's not to say it isn't worth watching, especially if you haven't seen the film yet. Transformers is without a doubt a movie you MUST SEE on the big screen. And there is no screen bigger than the IMAX screen. I also found the film's climax fight sequence to be a lot easier to understand, where I was quite confused by all the action during the theatrical screening. I'm not sure if this is a result of the excess screen space, or if the IMAX print was re-mastered for ultimate clarity.
You can read our original review at this link.