American Pie 6 Coming This Christmas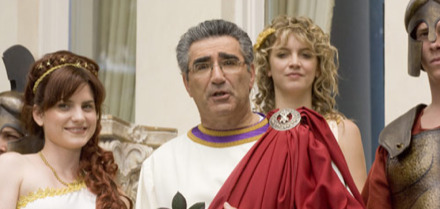 Universal is releasing a sixth American Pie film this Christmas.
Eugene Levy (For Your Consideration) is the only actor from the original trilogy to return for the sixth film. The cast of American Pie Presents: Beta House includes American Pie Presents: The Naked Mile alumni John White (How to Deal), Steve Talley (Peaceful Warrior), Jake Siegel (American Pie Presents: The Naked Mile), Jordan Prentice (Harold and Kumar Go to White Castle), Christopher McDonald (Happy Gilmore, Thelma & Louise). The movie also introduces new characters played by Meghan Heffren (The Fog, Flight 93) Jonathan Keltz (Breach) Tyrone Savage (Wind at My Back) and Nicholas Nicotera, a.k.a. Nic Nac (2 Dudes and a Dream, Bottoms Up).
Here is the official plot synopsis:
In American Pie Presents: Beta House, the gang's all-new hijinks take them from the town of Great Falls to a university in Michigan. At the college, the party scene is in full swing, especially along fraternity row, where the competition for social supremacy is ferocious. Our heroes Erik and Cooze pledge the infamous Beta Delta Xi House, and hilarity ensues as everyone gets swept up in the craziness, pranks, partying, and, of course, unpredictable sexual situations. Pitted against a rival House and their power-hungry leader, the rivalry gets so intense that only the long-banned competition, The Games, can settle the question of which House prevails. It's up to the Betas to pull together and prove that some traditions deserve to be upheld!
I've only seen one of the previous American Pie direct-to-dvd spin-offs (Band Camp), and while it wasn't horrible, it wasn't necessarily good either. The Naked Mile received the same kind of reviews, so I would expect more of the same from Beta House. Interestingly enough, this is the third American Pie direct-to-dvd movie in three years, so I'm sure we can expect another one late next year. I'm sure these flicks don't cost more than $5-$7 million to produce, which equals some mega cash. I know that Band Camp made about $20 million in its first week alone.
Beta House will hit store shelves on December 26th, just in time for gift card season.