Special Report: Jerry Seinfeld's Bee Movie
Today I was invited to a special screening of footage from Jerry Seinfeld's Bee Movie in San Francisco. Seinfeld and director Steve Hickner were in town to present the footage and do interviews (I'll be posting the interviews at a later date. I would like to first start off by saying how unimpressed I have been with computer animation outside of Pixar. Pixar seems to be the only company that knows how to craft a story, and create interesting characters. Dreamworks Animation always seemed like a subpar product to me. Yes, even the Shrek films. The 2006 film Over The Hedge was the closest the studio ever got to winning me over, and even that was not "spectacular".
And the footage I've seen so far from Bee Movie didn't seem to be much different from their past efforts. So to say I went in with the lowest of the lowest expectations, would be right on target. In fact, if Seinfeld wasn't in attendance, I would have been at an Into The Wild press event in Los Angeles instead (but alas, Jena Malone will have to wait for another day).
Seinfeld opened the show up, after riding on a fake cable car (you know, the ones with wheels) to a yellow carpet. He told us that he has been working on this film for three of four years, and that the film would finally be finished later this week. I'm still a bit skeptical as to why we were unable to view the almost completed film, instead of clips. But my hesitations would soon be put to rest. Seinfeld recounted the story of how the project came to be. Steve Spielberg asked Jerry if he had any ideas, while having dinner in the Hamptons (oh, how good it must be to be rich). Seinfeld blurted out that he would like to make a movie about Bees and call it The Bee Movie. It was just a joke, but Spielberg thought he was serious.
"It was just a title, he insisted that I make a movie, and now four years later, I have now done that!" said Seinfeld. "Whatever he tells you to do, you have to do it, because he is the King of the Jews!"
Seinfeld joked briefly about the current crisis in the Bee community, where bee colonies are collapsing.
"This is actually a publicity stunt by Dreamworks to sell the movie, and as soon as it's released, we will replace all the Bees!"
Someone asked if the movie was completely animated, as some people were confused by the early teaser trailers which showed the voice stars in bee suits.
"Totally! So don't freak out! You think you might see a real human? You Won't! It's only a cartoon!"
Someone else in the audience asked "Is the movie about something?"
"No, it is not!" Seinfeld quickly replied. "It's more of the same nonsense and drivel that I have forced upon the American public. I've been doing very well with it!"
On NBC they will be running a series of 22 one to one and a half minute "small little bite-sized entertainment pieces" called "TV Juniors". Seinfeld describes the segments as "little silly looks at what the experience of making this movie has been for me." The segments will premiere on tv and later on You Tube. We got to see two of these segments.
The first began with Seinfeld walking through the Dreamworks headquarters where everyone was asleep, while he joked about why the animation process takes so long. The segment ended with girls in bikinis jumping around in soap bubbles in the Dreamworks water fountain.
The second TV Junior shown was much, much funnier. Titled "Idiot with Coffee", the segment featured a production assistant named Carl who offers Seinfeld and his writing team and idea during the scripting process: "What about a scuba-diving bee?" Seinfeld ridiculed him and sent him walking, right before one of the other writer's name is Carl SPIELBERG. Cut to the same office, and Carl is now "head writer" and Seinfeld is pouring coffee for him. This segment had everyone in the audience laughing out loud.
Director Steve Hickner then got up to introduce the first clip, which was very much everything I had feared that the Bee Movie was going to be. The character that Jerry Seinfeld voices is named Barry B. Benson, a recent college graduate who is disillusioned at his lone career choice: making honey. In the clip, Barry convinces the army of bees to let him join them as they make a trip outside of the hive. Barry signs a waiver and the general bee warns the men to avoid the rain because Bees can't fly in the rain, and that "absolutely no talking to humans!" It's one of those set-up exposition moments when you go, oh, so there is going to be rain and someone ids going to talk to a human. It's the clunkiest of the clunkiest screenwriting. So anyways, the bees leave the hive and fly around Central Park is a visually breathtaking sequence which is the first of a few cinematic sequences which make me wonder why this film isn't being released in IMAX 3d (of is that just not announced yet?). The blue leader spots a section of roses and they group swoops down and uses some sort of guns to suck the nectar. The bee Barry is flying with shows Barry why and how they spread pollen. They fly over a pond, before Blue leader spots what he believes is daisies. They land in a tennis court next to the tennis balls that they first believed to be flowers. The fuzzy texture of the tennis balls causes the bees to stick to them when touched. Barry gets caught on a ball which is used in a tennis match between a man and a woman. This is another one of those amazingly vivid cinematic sequences, where the camera follows Barry who is stuck to the tennis ball as it soars back and fourth over the net.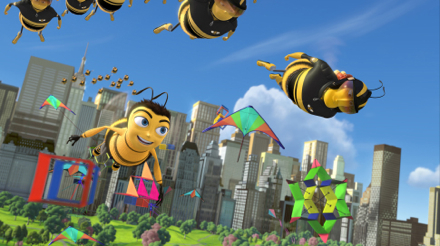 Clip two begins with Barry who is now trapped inside the house of the human woman from the tennis game . He tries to escape out the window but hits the glass, and hits it again, and again, and again. Unable to pass through the invisible wall, he spots "the sun", which is really a light on the ceiling. He crashes into it and lands unconscious into a bowl of dip on the table. Someone almost eats a chip with Barry on it before the humans spot it. Barry now finds himself trapped under a glass. The woman convinces the man to not kill him and let him go out the window. And of course it's raining, so Barry can't fly away (payoff #1). Barry stares at the woman almost as if he's in love. The man leaves and Barry debates to himself if he should thank the woman for saving his life (payoff #2). He sneaks back into the house, hiding from sight, and at one point posing in front of a can of bumblebee tuna in an effort to blend in. Barry finally introduces himself to the woman, who is named Vanessa (voiced by Renee Zellweger). She of course is shocked, drops her dishes, and thinks she is dreaming. Barry thanks her and after some funny back and fourth banter, she offers him coffee. Cut to a rooftop scene where Barry tells Vanessa a bee joke that she doesn't understand, and a maintenance worker sees them, and asks her if she's alright, because it appears that she is talking to herself and has two cups of coffee.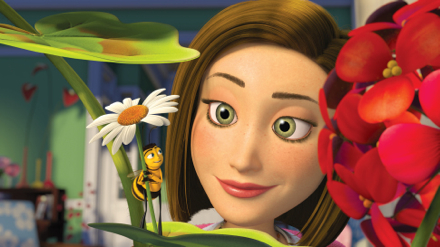 Clip three begins with Barry telling his friend about his experience with Humans. His friend asks "do they try to kill you like you see on tv?" He tells his friend that he made friends with the woman.
The fourth clip is where my ideas about the movie started to change. Until now, with the exception of the two visually stunning sequences I mentioned before, the film had been everything I had feared: badly written exposition, a lack of funny jokes, and sad production design choices like the bees with sucker guns. It seemed like the typical DreamWorks animation film. This is where the pop culture infused jokes begin to roll. This is when Jerry's patented observational humor is unleashed.
Barry is harassed by his parents for not having a job. He has a fantasy sequence about Vanessa which ends badly and with a huge laugh. Cut to a new scene with Barry talking to Vanessa, sitting on her shoulder as she walks down the street. They talk about the parade of roses (Vanessa is a florist), flying vs. walking, Tivo and bee stings. This is where the Jerry Seinfeld jokes hit the right rhythm, and the laughs really begin. In a grocery store a stockboy tries to kill Barry with a magazine and Vanessa yells at him. Barry spots a whole rack full of honey, which makes him really angry.Why are the humans stealing the honey, destroying homes, schools and hospitals in the process? Barry confronts the stockboy who is unboxing jars of honey in the warehouse.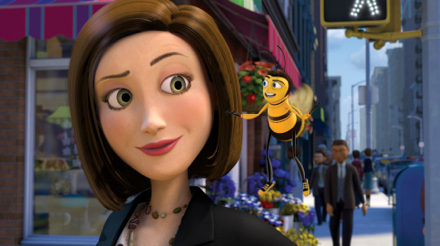 This sends him on a journey to catch the "Honey Farms" truck that just left the back gate. Barry flys through the busy streets, narrowly avoiding cars, trucks, cabs, busses. Another great visually cinematic sequence which has you on the edge of your seat. He slingshots off a bike messenger and lands on the windshield of the Honey Farms truck. This is the sequence that was parodied in the live-action teaser trailers. Chris Rock plays a mosquito who is also on the windshield. He warns him not to move, because if he does, the truckers will turn on the wipers. But he is unfortunately too late, and the wipers are turned on. Through a series of events, Chris's mosquito character and Barry end up in the truck horn talking briefly before Chris spots an ambulance and goes off for "fresh blood".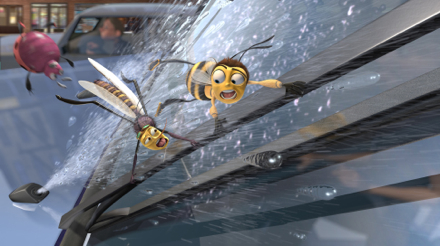 What happens next, I don't know. But Barry sues the human race. Yes, you read that correctly. The next clip involved Barry in a court room with a judge voiced by Oprah Winfrey. With the help of Vanessa, Barry and family of thousands of bees are taking of the honey industry, represented by Layton T. Montgomery (voiced by John Goodman) Barry pleads to the jury, and brings a few surprise witnesses to the stand including the singer Sting (minus the Police) and Ray Liotta in a hilarious self voiced cameo.
Barry becomes a media sensation, and the next clip shows him on the Hive at 5 tv news, and an interview with Bee King Live (a parody of Larry King Live with a bee voiced by Larry King). Barry asks Bee King his age and muses about the human version of Larry King. I know this doesn't sound funny, but the people in the theater were hysterical with laughter during this sequence.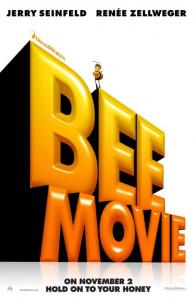 I'm not quite sure what part of the story this leaves off at, but unlike most movies, the court room battle is not the final confrontation. They story takes a few more twists including the Bees gaining possession of all the bottled honey, which allows them not to work, which causes most of the New York City flowers to die. And of course, Barry's Vanessa loves flowers...
The presentation really surprised me, especially the last two segments, which were a real twist in the expected usual storyline. I mean, who would have thought about having the bees file a lawsuit which results in a huge court case? Most animated movies would keep the bees within their world, and far away from such a storyline. Hickener and Seinfeld wisely chose not to have the characters be modeled off of the voice actors. They are characters, unlike most other non-Pixar animated films. The dialogue is sharp, funny, but real. Seinfeld's observational humor is fresh again in a new and exciting unexplored world of the Bees. I'm now suddenly very excited to see The Bee Movie.