Jim Broadbent Is Slughorn In Harry Potter And The Half-Blood Prince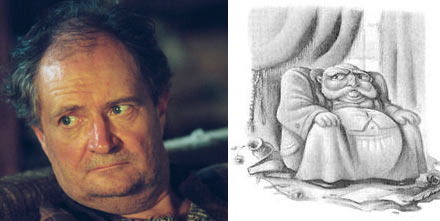 We missed this one yesterday, but Academy Award winner Jim Broadbent (Moulin Rouge!, Gangs of New York, Iris) revealed to Dark Horizons that he will play Horace Slughorn in Harry Potter and the Half-Blood Prince.
"Who am I? He's called Horace Slughorn. He's a retired teacher of magic who's drawn back out of retirement because he's got some secrets they need in the battle against the Death Eaters and he's quite star struck as a teacher and he's drawn back into the fold because he likes to notch up celebrity students, and he's drawn back by Harry."
Slughorn was the long-serving Potions teacher and Head of Slytherin House since at least the 1940s, but retired in the 1980s. He went into hiding after the resurgence of Voldemort. At the beginning of Harry Potter and the Half-Blood Prince, Hogwarts headmaster Professor Albus Dumbledore locates Slughorn and convinces him to succeed Professor Severus Snape as Potions Master.
Harry Potter 6 began filming on Monday for a November 21st 2008 release.