Box Office Tracking: Brave One $13M-$16M; Woodcock Sub-$10M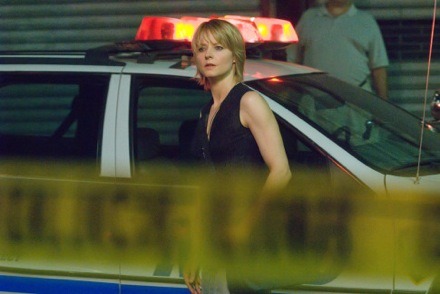 Jodie Foster returns to America's multiplexes this weekend as sort of a feminist Death Wish-style Charles Bronson in Neil Jordan's THE BRAVE ONE (Warner Bros) on 2,755 screens. Unlike fellow 40+ stars Meg Ryan and Sandra Bullock, Foster seems to gaining clout at the box office.
After a remarkable career as a child, which included memorable turns in TAXI DRIVER, BUGSY MALONE and FREAKY FRIDAY, she established herself as an important actress with her Oscar wins for THE ACCUSED in 1988 and for 1992's THE SILENCE OF THE LAMBS. Her searing performance as Clarice Starling opposite Anthony Hopkins also made her a movie star as SILENCE topped $130M domestic. 4 of her last 5 major studio releases have opened with $20M+ on opening weekend and have gone on to top $88M domestic.
Reviews for The Brave One are coming in mixed to positive. The film is rated 64% Fresh on Rotten Tomatoes, and it's got 60% Positive on MetaCritic, so it won't necessarily get a big bounce from consistently great reviews on Friday, plus the industry tracking shows weakness with Under 25's, especially males.
I'm choosing to use final tracking figures for 2007 releases ZODIAC and SHOOTER as comparables in order to figure out how well THE BRAVE ONE will perform on opening weekend. ThHE BRAVE ONE has the weakest Un-Aided Awareness of the 3 films with just 2%, compared to 5% for ZODIAC and 4% for SHOOTER. The Total Aware for the Foster vehicle is at 64%, which is better than for Mark Wahlberg's SHOOTER at 59%, but trailing the Fincher period thriller with 71%.
In terms of Definite Interest, THE BRAVE ONE has some problems. Its 35% score is comparable to SHOOTER with 37% and ZODIAC with 34%, but it's the demos that seem problematic.
DEFINITE INTEREST â€" Males Under 25
Zodiac â€" 41%
Shooter â€" 40%
The Brave One â€" 24%
DEFINITE INTEREST â€" Males 25 Plus
Shooter â€" 38%
The Brave One â€" 34%
Zodiac â€" 28%
DEFINITE INTEREST â€" Females Under 25
Zodiac â€" 40%
Shooter â€" 33%
The Brave One â€" 30%
DEFINITE INTEREST â€" Females 25 Plus
The Brave One â€" 48%
Shooter â€" 36%
Zodiac â€" 29%
This urban street justice tale isn't resonating with Under 25's, and, the most reliable movie-going demo, under 25 males, have little or no interest.
11% of those surveyed report that THE BRAVE ONE is their First Choice this weekend, and that's a tick better than SHOOTER scored (10%), but ZODIAC left the starting gate with a 17% First Choice. Again, the problem is the younger demos as THE BRAVE ONE only manages a 6% First Choice with Under 25 Females and a miserable 3% First Choice ith Under 25 Males.
ZODIAC opened with $13.3M on opening weekend and SHOOTER grabbed $14.5M, and those appear to be pretty good benchmarks. I'm targeting $13M-$16M for THE BRAVE ONE on opening weekend.
Billy Bob Thornton, everybody's favorite BAD SANTA, stars in MR. WOODCOCK (New Line), another comedy where he plays an irascible, cranky, short-tempered jerk who (I hope I'm not spoiling the movie for you) will almost certainly turn out to have a heart, at least partially, made of gold by the time the credits roll. Critics are definitely not jumping on the Woodcock train. The would-be comedy is only rated 21% Fresh on Rotten Tomatoes, and it's running at just 40% Positive on MetaCritic.The picture will open at 2,200 or so locations on Friday, and it should be noted that New Line went with fewer runs than they had originally anticipated. Why make prints when people are most likely going to watch it on DVD in a few months?
Un-Aided Awareness for MR WOODCOCK is at 1% and the Total Aware is 61%. I think that BALLS OF FURY is a pretty good comparable here. It's another PG-13 comedy with a lame premise, bad reviews and a star, who seems to be mailing it in. BALLS opened with 5% Un-Aided Awareness and a 67% Total Aware. The ping-pong comedy has an advantage in Definite Interest 34%-30% and First Choice 10%-5%.
All of this adds up to a soft WOODCOCK. BALLS managed a 3-day of $11.3M, but it was Labor Day weekend so it got a Sunday boost. It looks like New Line is headed for no better than $6M-$9M here.
The third wide release is a bit of a sleeper. It's called DRAGON WARS, and it's being distributed by Freestyle Releasing. It's easy to dismiss a film like this. Generally, Freestyle handles "service deals," which means companies pay them to get their movies into theatres, and they may not exactly have any pride of ownership (it's not really their movie). This picture, however, might be different.
First of all, it's a real movie with a real budget of $70M, mostly spent on very good visual effects. Derek Elley from Variety saw this picture when it played at the Berlin Film Festival (it was then titled D-War), and he wrote a generally positive review.
"Bad-mutha Korean serpents trash downtown L.A. in Eng-lish-language monsterfest D-WAR, a feast of A-grade f/x married to a Z-grade, irony-free script. After some eight years in planning, production and post, and just over two years since live-action shooting wrapped, South Korea's biggest-budget production by far (reportedly $70 million) looks likely to end up the most expensive cult movie on DVD. Though often visually entertaining, and superior to helmer Shim Hyeung-rae's last monster outing (1999's YONGGARY aka REPTILIAN) pic looks to have an uphill fight in the hardtop arena."
As Derek says, it's "an uphill fight" commercially, but Freestyle has secured over 2,200 runs, and the tracking is very surprising.
DRAGON WARS has low Awareness of 35% and low Definite Interest of 25%, but Under 25 Males appear to be excited about this movie. Compare the tracking for Under 25 Males for this weekend's 3 wide releases.
TOTAL AWARE – Under 25 Males
Mr. Woodcock â€" 67%
The Brave One â€" 51%
Dragon Wars â€" 48%
DEFINITE INTEREST – Under 25 Males
Mr. Woodcock – 42%
Dragon Wars â€" 39%
The Brave One â€" 24%
FIRST CHOICE – Under 25 Males
Dragon Wars â€" 11%
Mr. Woodcock â€" 6%
The Brave One â€" 3%
Most everyone had penciled in $2M-$3M for DRAGON WARS, but it is poised for an upside surprise. It's even possible, though not likely, that it could beat MR. WOODCOCK, which would be a pretty staggering upset. I say that DRAFON WARS is headed for $4M-$7M in its opening 3 days. Not exactly ERAGON ($23.2M opening – $75M cume), but certainly not the "throw-away" title I was expecting.
Final weekend predictions for September 14-16:
1. The Brave One (Warner Bros) â€" $15M
2. 3:10 to Yuma (Lionsgate) â€" $9.1M
3. Mr. Woodcock (New Line) â€" $7M
4. Dragon Wars (Freestyle Releasing) – $5.7M
5. Superbad (Sony) â€" $5.4M
6. Halloween (MGM/Weinstein) â€" $4.3M
7. The Bourne Ultimatum (Universal) â€" $3.5M
8.  Rush Hour 3 (New Line) – $3.3M
9. Balls of Fury (Rogue Releasing) – $3M
10. Mr. Bean's Holiday (Universal) – $2M
Read more at Fantasy Moguls.