TIFF Movie Review: The Babysitters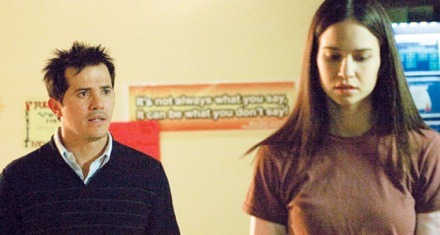 The Babysitters is a dark indie comedy about a teenager babysitter who turns her business into a call-girl service for married guys. It's not as ridiculous as it might sound. Shirley is a 16 year old high school student who babysits for neighbors on weekend nights for extra cash. One night one thing leads to another when Mr. Beltran (John Leguizamo) kisses her. Kisses turn into sex. Sex turns into guilt. Guilt turns into a $200 babysitter pay-out. Beltran tells his friends, they order babysitters, and suddenly innocent young Shirley has a new business. Her friends/employees are assigned the appointments, and drop of a 20% cut through the slits in her locker. High School madam Shirley is earning money for college, while her friends earn money for clothes, jewelry and other material things. Things seem to be going perfectly...
Yesterday I wrote about Very Young Girls, a documentary about young teenage prostitutes in New York City. It was disturbing and moving look at a world which you usual ignore, but is taking place right down the street. Twelve year old girls are sucked into this world and held emotionally and physically hostage by pimps. So I entered into The Babysitters with a different frame of mind. But The Babysitters made me laugh and kept me interested to the very end (and what a crazy conclusion it is). May-be it's the fact that the high school girls in this movie seem to be the ones empowered. May-be it's the fact that they are 16 years old (the legal age in a lot of US states). I entered into this film thinking that I would inevitably leave upset that the filmmakers were glamorizing a very horrible situation. But I instead left with a smile.
David Ross' film is a completely refreshing look at a story you've likely heard and seen before (in the news, books or tv). The young star of The Babysitters, Katherine Waterston, is certainly one to watch in the coming years.
/Film Rating: 7.5 out of 10