TIFF Movie Review: Run, Fatboy, Run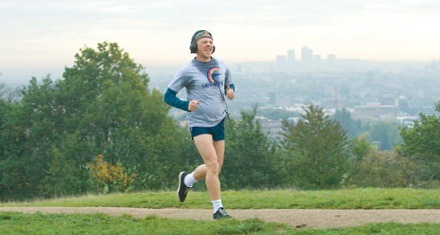 Remember David Schwimmer? He played Ross on Friends, and now he wants to be a director. His feature film debut, Run Fatboy Run premieres at the 2007 Toronto Film Festival. I was able to get an advance look at the film, although I wasn't expecting much going in. The reason I wanted to see the film was because it starred Simon Pegg, who you may know from Shaun of the Dead and Hot Fuzz fame. And this isn't the first collaboration between Schwinner and Pegg, the duo teamed up for a film last year called Big Nothing, which went directly to DVD in the states. No, I haven't found time to rent it. And while most direct-to-dvd releases are usually of questionable quality, Big Nothing actually has a decent score on IMDb.
Schwimmer was last seen at the 2005 Sundance Film Festival in a little indie dramedy called Duane Hopwood. I was very surprised with his range in that film. For me, I think the fact that he came from the television show Friends might have infused his name with a bad stigma. And I think that may be true with the entire cast of that show. And god knows I've hated Jennifer Aniston in almost everything she's been in (she tried unsuccessfully to ruin Office Space). But now that I think of it, I've actually enjoyed quite a few movies starring Lisa Kudrow, Courteney Cox and Paul Rudd, so may-be the stigma is unwarranted. Reguardless, let's get to the review.
Run Fatboy Run stars Pegg as Dennis, a clueless man who got cold feet and left his pregnant wife at the alter. Five years later, he's a ladies clothing store security job who is a few months late on rent. He's irresponsible and lazy. Libby (Thandie Newton) has moved on and is in a relationship with a business man (Hank Azaria) who likes to run marathons for charity in his spare time. And one day Dennis realizes that she is, and always will be, his one true love. His plan, to train and beat Azaria's character in the Nike River Run to prove to Libby and his son Jake that he should get a second chance. But Dennis has never finished anything in his life...
Written by Michael Ian Black and Simon Pegg, Run Fatboy Run is not only laugh out loud funny, but surprisingly endearing. The story may be considered typical and at moments, too broad, but it has heart. Pegg is so likeable as the loser, and Azaria always makes the perfect villain (although I do wish they toned it down in the last act).
/Film Rating: 7 out of 10