Natalie Portman Nude In New Wes Anderson Film?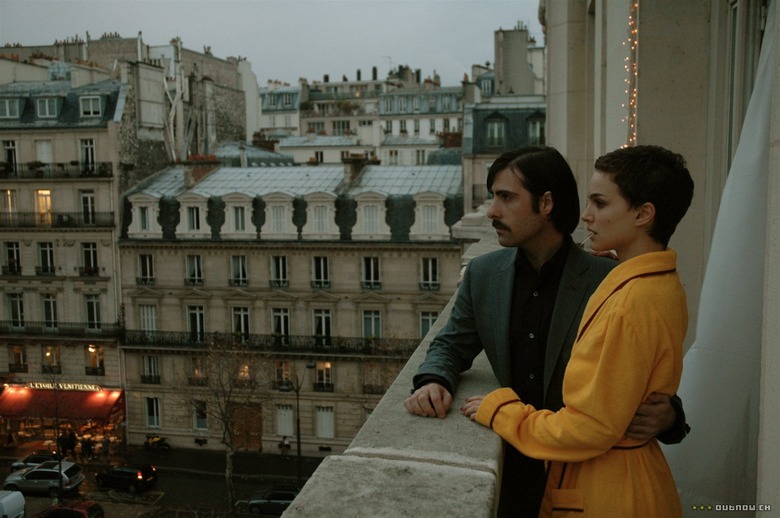 Update: The short film is NOW available online.
Yesterday we angrily reported that Wes Anderson's 17-minute short film Hotel Chevalier starring Jason Schartzman and Natalie Portman will not be showing before The Darjeeling Limited after all. Many of you probably didn't care (I mean Wes Anderson was so 5 years ago, right?). Well now you might. Timeout London is reporting that Natalie Portman appears in the nude:
This wistful and maudlin short story offers some background to the main attraction as Schwartzmann and Natalie Portman play a pair of estranged lovers who square up to each other in the sumptuous surroundings of a Parisian hotel room.
If there's one element of 'Hotel Chevalier' that's surprising for Anderson, it's a strong sense of romance and sexuality: in one shot, Schwartzmann gently pulls off Portman's clothes to reveal her naked body from behind, and a later shot has Portman, nude, standing still in a doorway, one foot up against the frame. It's the sexiest thing that Anderson has ever done.
Who knows if this is true, the UK publications are usually not to be trusted 100%. And I'm sure we'll probably learn later that it was a body double or something else. But even if it is true, it now appears we'll have to wait for the DVD release to see the short film. Maybe if we all petition Fox Searchlight, they might find that fans want to see the prequel short attached to the main feature.
The short takes place in one room of a French hotel (Hotel Chevalier) and serves as "a short epilogue of one heartbreaking history of love and the prologue of the travel told in 'The Darjeeling Limited." Hotel Chevalier screened Out of competition in the upcoming Venice Film Festival, and is also scheduled to make an appearance at the New York Film Festival.