Sacha Baron Cohen Has Dinner For Schmucks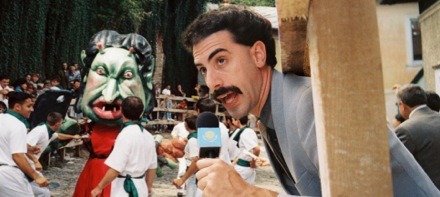 Variety has officially announced Sacha Baron Cohen's next project, a follow-up to Borat based on another one of his Ali G show characters, Bruno. One problem, didn't we report this months and months ago? Didn't we also hear that production on the film had already begun? We had reports of a Bruno sighting at the LA World Trade Week. Did that not happen?
But Variety does have one new Cohen casting announcement: Sacha is set to star in a DreamWorks remake of the french comedy film Le Diner de Cons. Dinner for Schmucks will be directed by Jay Roach (Austin Powers), based on a script by David Guion and Michael Handelman. Roach was a producer on Borat and is also producing Bruno.
The French film focused on a weekly dinner party held by a Paris publisher who challenges his friends to bring the biggest idiot. According to Variety,  "Cohen will play a character blessed with such extraordinary schmuckiness that he can destroy the personal life of anyone with whom he comes in contact." Filming will begin sometime after Bruno is in the can.