The Darjeeling Limited: More Behind The Scenes Videos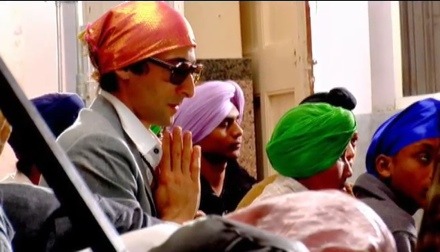 A couple days back, we posted four behind the scenes videos from Wes Anderson's The Darjeeling Limited. Fox Searchlight has sent us three more videos, again, accompanied by description from Wes Anderson himself. Check them out after the jump.
"Waris and the Cobra"
"We originally wanted to cast a little, red, spectacularly posoinous species called a Krait for the snake in our story, but unfortunately the only one we had actually seen (which had been captured by the manager of a tea estate in Darjeeing) had just been re-released into the wild. The most readily available snakes in Rajasthan seem to be cobras."
[flv:http://media2.slashfilm.com/slashfilm/trailers/darjeelingcobra.flv 470 350]
"Train Rocking"
"From the very beginning, our plan was always to shoot our scenes on a real, moving train. This turned out to be very exciting when we actually managed to do it, but it was very difficult to organize, and sometimes we had to pull over and wait a few hours while the scheduled traffic passed."
[flv:http://media2.slashfilm.com/slashfilm/trailers/darjeelingtrainrocking.flv 470 350]
"The Sikh Temple""Anyone who has been inside a Sikh temple knows you are always required to over your head. There is usually a basket filled with a selection of colorful scarves just inside the door for visitors without turbans to choose from."
[flv:http://media2.slashfilm.com/slashfilm/trailers/darjeelingtemple.flv 470 350]