Casting Bret Easton Ellis' The Informers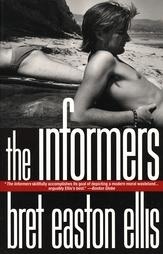 Billy Bob Thorton (Sling Blade) and Kim Basinger (LA Confidential) have signed on to join Brandon Routh (Superman Returns), Austin Nichols (John from Cincinnati), Ashley Olsen (Full House), Jon Foster (Terminator 3) and Lou Pucci (Thumbsucker) in the big screen adaptation of Bret Easton Ellis' The Informers. Sounds like a pretty well rounded cast, but what is Ashley Olsen doing out in the sun?
I love Bret Easton Ellis. You might not know who he is, but you've probably seen a movie based off one of his books: American Psycho, Less Than Zero, and Roger Avary's drastically underrated adaptation of The Rules of Attraction.
Gregor Jordan (Buffalo Soldiers) is directing the movie based a screenplay Nicholas Jarecki wrote with Ellis.
The Informers was first published in 1995, a collection of loosely connected short stories captures a week in Los Angeles in 1983. The stories feature movie executives, rock stars, a vampire and as Ellis' other works, various "morally challenged characters in adventures laced with sex, drugs and violence."