The Descent 2 Gets A Director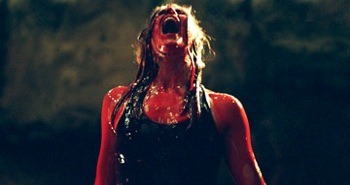 The Descent was one of my favorite films of 2005 (maybe not on my top 10, but probably my top 20). And I'm not a huge horror fan, so for me to like a horror film this much it must have offered something more than the typical slasher flick. And that's the best way to describe The Descent. Instead of an idiotic cast of OC-star model-looking teens, it starred a group of Women. It had some nice ideas, and some good scares. They're already working on a sequel, to be called The De2ent, and Fangoria talked to Neil Marshall, who offered up information on the new director.
 "I will not be directing The Descent 2, but I will be overseeing every aspect of the production. There's nothing to oversee yet, though, as the script is currently being written. My Descent editor Jon Harris will make his feature directing debut with the sequel, and I can't think of a better man for the job."
No story details were revealed, but I'm sure the studio will probably ruin the idea in an attempt to make it more marketable (OC-like-actors...etc), which is the case with most sequels. And a first time director is usually never a good sign. However, film editors usually become good directors because they know how to shoot for the edit.