Zack Snyder To Direct Ray Bradbury's The Illustrated Man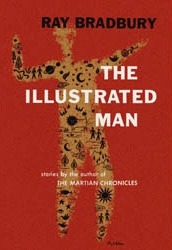 Zack Snyder (300, Dawn of the Dead remake) has signed on to direct an adaptation remake based on Ray Bradbury's collection of short stories, The Illustrated Man.
This is part of a first look deal that Snyder and his wife signed following the success of 300. For some reason, I 'm betting that this is one of those projects that will be developed for a few years, but never enter production.
Snyder is currently hard at work on a big screen adaptation of Alan Moore's classic graphic novel Watchmen, which is scheduled to start filming in September 2007, release: March 6th 2008. Snyder has a lot of other projects on his development plate including an adaptation of Tom Clancy's video game Rainbow Six, a post apocalyptic zombie film called Army of the Dead, and an adaptation of the 1988 comic book series Cobalt 60. But who knows how many of those projects will actually go into production.
The collection was first published in 1951. The book included eighteen science fiction short stories that explores the nature of humankind. The characters and plot are not connected from story to story, but a recurring theme is the conflict of the cold mechanics of technology and the intimacy of human nature. The unrelated stories are tied together by the frame device of "the Illustrated Man," a vagrant with a tattooed body who the unnamed narrator meets. The man's tattoos, allegedly created by a woman from the future, are animated and each tell a different tale.
The book was made into a film directed by Jack Smight and starring Rod Steiger and Claire Bloom in 1969.  According to the Guinness Book of World Records, this film has the record for longest time applying make-up each day, at 20 hours. Make-up director Gordon Bau and a team of eight assistants supposedly spent ten hours applying the temporary tattoos to Rod Steiger's torso, plus another full day tattooing his hands, legs and lower body.