Bruce Campbell Says NO To Bubba Ho-Tep Sequel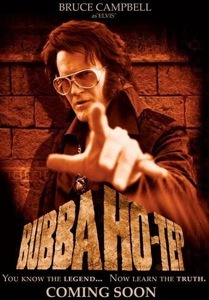 A follow-up to our story from last week where Paul Giamatti mentioned that Bruce Campbell might not return for a Bubba Ho-Tep sequel. We didn't believe it. The idea of Giamatti playing Colonel Parker, who would have to team with Campbell's Elive to fight Vampires, seemed too good for even Bruce to pass up. Well, apparently not. Fangoria caught up with the cult b-movie star, and this is what he said:
"[BUBBA NOSFERATU] is dead to me," Campbell said flatly. "It sleeps with the fishes. Don Coscarelli is a very passionate filmmaker. We got to a few points [developing the screenplay] that we couldn't reconcile. I want to keep our friendship, so we parted ways. So I'm not part of that project."
Director Don Coscarelli says that he is considering recasting the film with another actor whom the fans would embrace. I wonder who that could be? Any ideas/suggestions?