Keanu Reeves To Star In The Day The Earth Stood Still Remake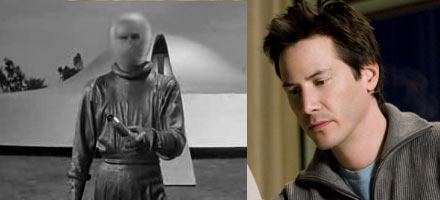 Keanu Reeves has signed on to star in 20th Century Fox's remake of The Day the Earth Stood Still. The Matrix star will play Klaatu (played in the original film by Michael Rennie), an alien who arrives on Earth accompanied by a large humanoid robot named Gort, with a warning to world leaders that their continued aggression will lead to annihilation by species watching from afar. Klaatu is famous in part due to the phrase "Klaatu barada nikto!" used in the film and its re-use in the Bruce Campbell cult film Army of Darkness.
The remake will be directed by Scott Derrickson (The Exorcism of Emily Rose, Hellraiser: Inferno) from a script by David Scarpa (The Last Castle). Fox if fast-tracking the film into production for a late 2007 or early 2008 start (presumably before the proposed strike in March). The studio hopes to make this a huge tentpole film.
The original 1951 Robert Wise film was considered one of the best Science Fiction films of all time (#7 on Arthur C Clarke's List) and was debated for it's religious symbolism and many interpretations. Bernard Herrmann score is also notable, partly because of its use of two theremins. The film is currently ranked #167 of all time on IMDb, with a 8.1 rating.
A remake has been rumored to be in development for a few years now. I believe I first heard rumblings back when War of the Worlds went into production. It will be interesting to see how this story will be handled in contemorary times, with good special effects. Will the charm be lost?
source: Variety