2007 Teen Choice Awards Winners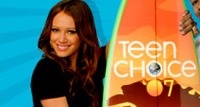 The 2007 Teen Choice Awards were held tonight in Universal City, CA and broadcast live on Fox. I'm not sure anyone outside of the 10-16 year old audience cares about who actually won. And isn't it more of whoever shows up gets the prize? I mean, how else did Sophia Bush win three awards, one for the best comedic actress(!?). We're publishing the winners of the movie section below for your amusement:
Action Adventure â€" "Pirates of the Caribbean: At World's End"
Drama â€" "The Pursuit of Happyness"
Dramaic Actor â€" Will Smith ("The Pursuit of Happyness")
Action Adventure Actor â€" Johnny Depp
Action Adventure Actress â€" Keira Knightley ("Pirates of the Caribbean: At World's End")
Comedic Actress â€" Sophia Bush ("John Tucker Must Die")
Horror/Thiller Actor Shia LaBeouf ("Disturbia")
Horror/Thiller Actress â€" Sophia Bush ("The Hitcher")
Dramatic Actor â€" Jennifer Hudson ("Dreamgirls")
Villain â€" Bill Nighy ("Pirates of the Caribbean: At World's End")
Hissy Fit â€" Ryan Seacrest ("Knocked Up")
Breakout Male Star â€" Shia LeBeouf
Breakout Female Star â€" Sophia Bush
Dance â€" Channing Tatum and Jenna Dewan ("Step Up")
Chemistry â€" Will Smith and Jayden Smith ("The Pursuit of Happyness")
Scream â€" Steve Carell ("Evan Almighty")