Tim Burton Asked To Butcher Sweeney Todd, Warner Bros Wants PG-13 Rating?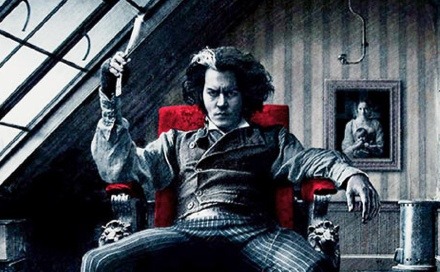 Warner Bros wants Sweeney Todd: The Demon Barber of Fleet Street director Tim Burton to "butcher" his own film, according to a report from the Daily Mail. Apparently the early footage from the film was so extremely bloody that the studio executives have become a tad squeamish and are requesting the film to be re-cut. In its present form the film would merit an R-Rating, but the studio would prefer it to be released with a PG-13 MPAA tag.
"Tim's not happy that the studio is asking for so many cuts to the cutting, as it were," someone connected to the film told the Daily Mail. "The thing is, the studio really likes the film and they want to make it accessible to as big an audience as possible – which means stemming the blood flow. But that's a bit difficult for a story involving a guy who gets high slitting throats."
In the film/play, Todd's victims are sat in a mechanical chair, where they are subject to a slice across their throats, before a trap door in the floor opens and they slide down a chute into the lair of Todd's mistress, Mrs Lovett (played by Helena Bonham Carter), who uses the dead bodies to make her meat pies. One scene that is said to have particularly bothered the studio bosses involved a "ten-year-old boy cutting up body parts, which were then thrown into a meat grinder and turned into mince."