Box Office: SuperBad On Track To Become 2nd Biggest R-Rated Movie Of 2007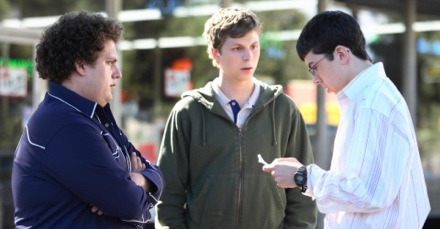 The raunchy "nerdfest" SUPERBAD (Sony) has coasted to an easy weekend win, becoming only the 3rd summer movie to win back-to-back weekends (joining SPIDEY 3 and PIRATES 3). Produced by Judd Apatow and written by Knocked Up star Seth Rogen, this teen comedy, budgeted at just $18M, stormed to another $6.52M on Saturday, and its second weekend will hit $18.07M for a new cume of $68.6M.
That makes SUPERBAD the 3rd best grossing 2007 comedy after 10 days of release, trailing only WILD HOGS and I NOW PRONOUNCE YOU CHUCK & LARRY, and that puts it ahead of the Apatow-directed early summer sensation KNOCKED UP.
TOP GROSSING COMEDIES OF 2007
- after 10 days of release -
1. Wild Hogs (Buena Vista) – $77M
2. I Now Pronounce You Chuck & Larry (Universal) – $71.6M
3. Superbad (Sony) – $68.6M (estimate)
4. Blades of Glory (Dreamworks/Paramount) – $67.9M
5. Knocked Up (Universal) – $65.8M
It's especially impressive given that SUPERBAD has an audience limiting R rating. In fact, this little, star-free, critically-acclaimed comedy is off to the 2nd-best start for an R-rated movie this year, behind only mega-blockbuster 300.
TOP GROSSING R-RATED FILMS OF 2007
- after 10 days of release -
1. 300 (Warner Bros) – $129.1M
2. Superbad (Sony) – $68.6M (estimate)
3. Knocked Up (Universal) – $65.8M
4. Shooter (Paramount) – $27.5M
5. Smokin' Aces (Universal) – $24.7M
As expected, THE BOURNE ULTIMATUM (Universal) and RUSH HOUR 3 (New Line) took the place and show spots Saturday and for the weekend. BOURNE grabbed $5.16M on Saturday and will likely add another $3.45M on Sunday for a 3-day of an estimated $12.12M. Meanwhile, the Tucker/Chan/Ratner action-comedy scored $4.87M on Saturday, and, after an anticipated $3.46M on Sunday, it'll finish with approximately $11.79M.
New releases MR. BEAN'S HOLIDAY (Universal), WAR (Lionsgate) and THE NANNY DIARIES (MGM/Weinstein) finished 4-5-6, both for the day and for the weekend. Rowan Atkinson's BEAN provided a slight upside surprise with $3.86M Saturday and $9.98M or so for the 3-day. After a strong Friday, the Jason Statham-Jet Li action pic tailed off with $3.39M on its 2nd day and an opening weekend of an estimated $9.61M. THE NANNY DIARIES is a disaster limping to $2.78M on Saturday and a weekend take of approximately $7.57M.
Rod Lurie's well-reviewed RESURRECTING THE CHAMP (Yari Film Group) is off to a disappointing start. The Samuel L. Jackson vehicle, touted as a possible Oscar contender, managed only $664,500 Saturday and just $1.71M for the weekend. That's a meager PTA of just $1,065. The outcome was better for Universal's ILLEGAL TENDER, which opened on just 512 screens. It delivered $1.32M on opening weekend for a per screen of just over $2,500.
I never quite understood why SEPTEMBER DAWN (Slowhand Releasing) was released so wide with 857 screens. Oscar winner Jon Voight stars in this bleak movie about a Mormon massacre in the mid 19th century. The results were predictably soft with just $584,000 or so, which means a $681 PTA.
Leonardo DiCaprio's THE 11TH HOUR (Warner Independent) expanded to 20 locations and suffered a stall at the box office. The weekend take for this global warming doc was only $66,596 for a 3-day PTA estimate of $3,329, only 10th for the weekend. IFC Films yachting documentary DEEP WATER was the PTA winner, followed by Julie Delpy's 2 DAYS IN PARIS (IDP Films), MR. BEAN'S HOLIDAY, SUPERBAD and DEDICATION (MGM/Weinstein) starring Mandy Moore andBilly Crudup.
Read more at FantasyMoguls.