JLA Update: Tom Welling As Superman? Live Action NOT Motion Capture?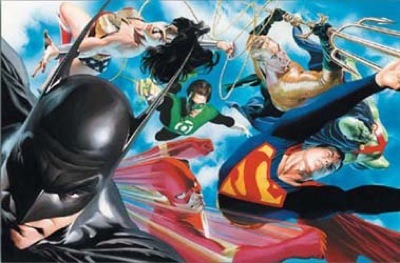 Am I the only one starting to get tired of all the recent JLA news and rumors? It seems like anytime new word breaks, it's quickly followed the next day by a retraction with new exciting information. It's not that I don't believe the film is going to happen, it's definitely going down. Warner Bros wants to rush this film into production by March 2008, before the potential strike. Even the LA Times has confirmed this as fact.
It now seems like the film won't be filmed using Motion Capture after all. That's right, we're back to a live action JLA movie. This is too bad, because the idea of a 3D computer animated film appealed to me more than the live-action concept. IESB, who is at the forefront of all the new Justice League of America information is now reporting that only a few underwater sequences and computer generated characters will be created using motion capture. Smallville star Tom Welling is also supposedly in talks to play Superman in the flick. Series producer Alfred Gough is denying the story over at SupermanHomepage. Filming a JLA flick early next year could run into scheduling problems with the Smallville television series. So who knows what's really going on.
I'm sure by late next week the film will be a black and white 3D movie using digital recreated versions of Christian Bale and Brandon Routh (I kid, I kid). I just wish Warner Bros would just make the official announcement already. George Miller is obviously attached. Please WB, stop this rumor madness and just tell us what's going on!