Confirmed: Stephen Sommers To Direct GI Joe Movie, Stuart Beattie To Pen Script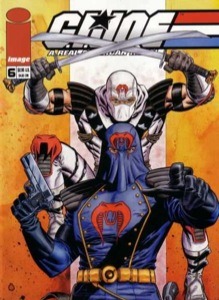 Variety has now confirmed a rumor that hit the movie websites a couple weeks ago: The Mummy series director Stephen Sommers has signed on to direct a big screen live-action G.I. Joe movie. The studio is hiring a writer immediately, IESB is reporting that Stuart Beattie (Pirates of the Caribbean, Collateral, Derailed, 30 Days of Night, Spy Hunter) is the man for the job. And they probably know, because they were the ones who broke this story a few weeks back. Paramount is fast-tracking the project for a summer 2009 release, which means production will begin this February. Variety claims that Sommers was officially hired after making a pitch to Paramount head Brad Grey and production president Brad Weston on Wednesday.
With characters like Cobra Commander and Serpentor, GI Joe has the potential to be an fun accessible army action film like never seen before. And with so many movies set in Iraq hitting the big screen, a Joe movie has the ability to offer something much different than the norm. Let's hope Sommers doesn't screw it up. I've genuinely hated most of his later films (Deep Rising, The Mummy Returns, Van Helsing). But I always stuck up for The Mummy.
I'm sure casting announcements will begin in a couple months. We'll be able to tell what type of movie this could be when we start seeing a list of names. I'm betting that Sgt. Slaughter is probably too old to play himself in this one (which is probably a good thing). They also need to watch out how much patriotism they jam onto the screen. If they don't get the dosage right it could piss of core conservative fans. If they put too much patriotism, it could scare off everyone else. Patriotism in large doses can be pretty scary. If done right, this could be the next Transformers (sans giant robots…). If done wrong, it could come off as a long inforercial for the U.S. Army.
G.I. Joe started in 1942 as a WWII military magazine comic strip. In the mid-60's the character became a series of military-themed 12″ articulated action figures produced by the Hasbro toy company. The company later relaunched the action figure line in a smaller, 3 3/4-inch scale in the early 80's. A comic book and animated television series followed. Over the 1980s, G.I. Joe's increasing popularity supported an array of spin-off merchandising that included posters, t-shirts, video games, board games, kites, animated movies, and an ongoing animated series.