Jesse Eisenberg Cast In SuperBad Follow-Up, Adventureland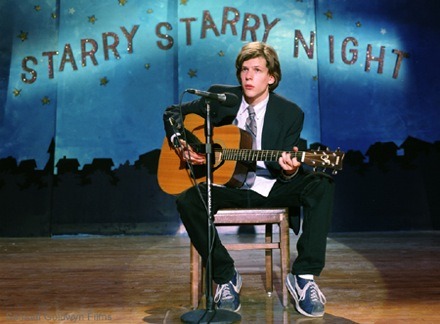 The Squid and the Whale star Jesse Eisenberg is set to star in SuperBad director Greg Mottola's next film Adventureland.
"I play a lot of directors' awkward stages in their lives," Eisenberg revealed to MTV, adding that the comedy won't be nearly as broad as "Superbad." "It's probably closer [in tone] to 'The Daytrippers.'"
Based off Mottola's own experiences at the Long Island amusement park, Adventureland is a period comedy film set in the 1980's which follows a college graduate who was prepared to spend his summer in Europe before starting Grad School. But when his father is laid off, he is now stuck at his home in Long Island, NY. He is forced to bet a job at a local amusement park called Adventureland where comedy ensures and love blossoms. Filming is set to begin this October in Pittsburgh.
Eisenberg is one of the better young actors working today. If you haven't seen him in The Squid and the Whale or Roger Dodger, please add those movies to your netflix list now. I just recently caught him in The Hunting Party, which was also very enjoyable.