Justice Leage Of America To Motion Capture/CGI Movie?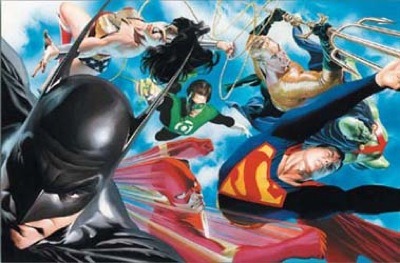 It seems like everyday now, a new rumor turns up which makes us question the legitimacy of a Justice League of America movie. We know this: Warner Bros has a script, and they want to make a movie. Rumor has it that George Miller is in talks to direct, and the film begins casting next week without Christian Bale or Brandon Routh.  We wondered how Warner Bros would handle the film with new actors playing Batman and Superman. And now things are starting to become much clearer.
IESB is now reporting that the film might actually be created using motion capture/performance, the same technology that was used for Polar Express and the upcoming Beowulf. This would make a lot more sense. Miller used some motion capture technology on Happy Feet. And the resulting 3D animated superhero team-up film might be better received by the mass audiences. The bad news is, if true, the film won't hit the big screen until 2010, or may-be even 2011. But again, this gells with the current production timeline, as it might give some breathing room for the Batman and Superman sequels.
One of the things I've not liked about motion capture thus far is that it has been used mostly in films that didn't make complete use of the technology. Polar Express for example: If you can film it using real kids on a train, and you're just going to make Tom Hanks look like Tom Hanks, than what's the point? A MoCap JLA film would be different because superhero characters are sure to have some very cinematic sequences that couldn't be filmed in 35mm without massive special effects. A 3D animated world might add realism to the superhero effects that might otherwise seem out of place in a realistic environment. The technology might also allow a streamlined conversion to IMAX and RealD 3D.