Eva Mendes In Frank Miller's The Spirit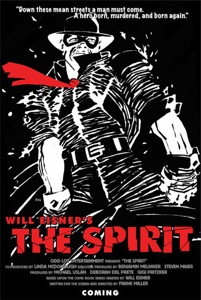 Eva Mendes has been cast in Frank Miller's (Sin City, 300) big screen adaptation of Will Eisner's The Spirit. Last week it was announced that Scarlett Johansson (Lost in Translation) was in final negotiations to star as the femme fatale in the film. Mendes will play Sand Saref, the only woman who could break the Spirit's heart. Sand's father was accidentally killed by the Spirit's uncle, which pretty much ended their teenage romance.
It has also been announced that Bill Pope has been hired as the film's cinematographer. Pope was the director of photography on some great cinematic projects over the last 17 years, including: Darkman, Army of Darkness, Fire in the Sky, Bound, The Matrix Trilogy, Wild Wild West, Spider-Man 2, and Team America. Miller has said that the film will utilize the same digital background technology used on Sin City and 300. It will be interesting to see what Pope will do with this type of green screen filming.
The Spirit follows a detective (Gabriel Macht) who fakes his own death in order to fight crime in Central City as the masked avenger. Frank Miller will start shooting the flick in October for a late 2009 release.
source: HollywoodReporter