Savage Steve Holland To Direct Legally Blonde 3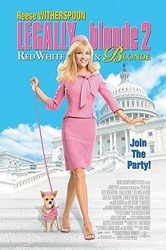 Better Off Dead and One Crazy Summer director Savage Steve Holland has been tapped to direct Legally Blonde 3. Holland told Collider:
It's called Legally Blondes. I'm not sure how much I can say about it as I just got the call. But it's very sweet and funny. Beloved director Sean Macnamara was supposed to direct this project. He had too much on his plate as a show-runner/producer.  His company Brookwell/Macnamara basically produces EVERYTHING else that's being made in this town. So he will PRODUCE LB3! So I got hired to direct. I think it's because I kinda look like Sean. We're both incredibly handsome, beefy, bushy haired surfer types. Sean's just more talented. But at least I'm bloated.
Last we heard, Reese Witherspoon had turned down an offer for a third film (which was expected to take place in London). This prompted MGM to greenlight it for their direct-to-dvd shelf, which also includes Wargames 2 and Species 4.
I'm a big fan of the three films that Holland made in the 1980's, but he has since disappeared to tv land. And the fact that Bratz director Sean Macnamara was originally attached to this project means it must be utter trash. But I guess that much is to be inherently expected. I've yet to meet one person who liked Legally Blonde 2. But like most other direct-to-dvd sequels, there is always more than a few willing suckers browsing the racks at Blockbuster.