Saturday Box Office: SuperBad Dips, But Still Headed For $31M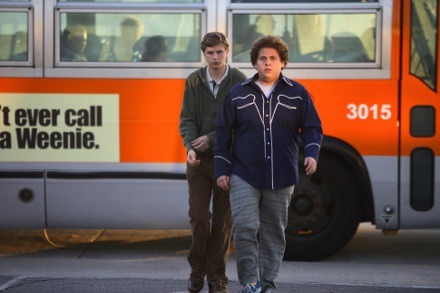 The Judd Apatow-produced SUPERBAD (Sony), written by KNOCKED UP star Seth Rogan and directed by Greg Mottola (THE DAYTRIPPERS), couldn't hold up the furious box office pace it set on Friday, but, even with its estimated 12% Friday-to-Saturday drop, the raucous teen comedy still delivered a very solid $10.64M. With an anticipated $8.5M on Sunday, SUPERBAD will wrap up the weekend with a phenomenal $31.24M.
RUSH HOUR 3 (New Line) added a stronger than expected $8.7M on Saturday, and the Tucker/Chan/Ratner action-comedy has a revised 3-day estimate of $20.81M. That's a 58% drop as opposed to the expected 60%+ drop that was
expected. It's likely that a fair number of teens bought tickets to see RH3, then crossed over to see the R-rated SUPERBAD. THE BOURNE ULTIMATUM (Universal), also PG13-rated, may have also been boosted by kids crossing over to see Jonah Hill, Michael Cera and friends. The Damon/Greengrass thriller grabbed approximately $7.93M on Saturday, and BOURNE's 3rd weekend will likely be $18.7M or so, just a 43% dip.
Joel Silver's mess THE INVASION (Warner Bros) only managed $2.14M on its 2nd day of release. The $75M body snatcher tale, starring Nicole Kidman and Daniel Craig, is headed for a miserable $5.5M weekend. The film, directed by Oliver Hirschbiegel (DOWNFALL), was supposed to be released last year, but Warner Bros and Silver didn't like the original cut. So, Silver called in the Wachowski brothers (The MATRIX Trilogy) and James McTeigue (V FOR VENDETTA), who added some action sequences. In the end, nobody could salvage this misfire.
MGM/Weinstein's THE LAST LEGION continued to sputter through its opening weekend with an estimated $957,000 Saturday. With a cast that includes Ben Kingsley, Anthony Hopkins, Colin Firth and Bollywood superstar Aishwarya Rai, the film may sell tickets abroad, but it will finish the weekend with just $2.49M.
There was more good news for the well-reviewed MGM comedy DEATH AT A FUNERAL, directed by Frank Oz (IN & OUT, DIRTY ROTTEN SCOUNDRELS). The US Comedy Arts Festival winner on 260 screens picked up another $530,000 or so. The dark comedy will have banked $1.23M by Monday morning.
Leonardo DiCaprio's THE 11TH HOUR (Warner Independent) suffered a 37% Friday-to-Saturday drop at its 4 locations, but it will still finish the weekend with an estimated $62,000. Its $15,531 PTA is the best of the weekend, edging gritty Brazilian doc MANDA BALA: SEND A BULLET (Slowhand Releasing) with $12,185 on its single screen and SUPERBAD with a PTA of $10,483.
Read More at Fantasy Moguls.com.