Box Office Tracking: SuperBad Targets $25M+; Invasion Soft At $9M-$12M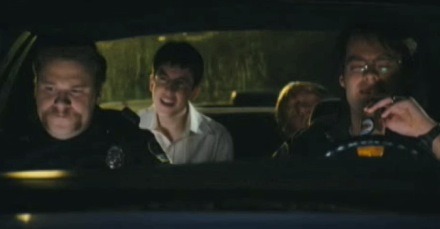 Judd Apatow is among the hottest talents in Hollywood right now. Apatow really hit his stride producing, writing and directing August 2005's The 40-Year-Old-Virgin ($21.4M opening – $109.4M cume), producing last August's Talladega Nights: The Ballad of Ricky Bobby ($47M opening – $148.2M cume) and producing, writing and directing June's Knocked Up ($30.6M opening – $148.8M cume to-date). Now, he's produced Superbad (Sony), which is written by his Knocked Up star Seth Rogan.
Sony knows they've "got the goods" with this R-rated comedy. They've been doing word-of-mouth screenings from coast-to-coast, and virtually every print and online film journalist has seen it. It's being compared to classics like American Pie, American Graffiti, Revenge of the Nerds and Dazed & Confused, and it checks in with a sterling 92% Fresh rating on Rotten Tomatoes and 82% Positive on MetaCritic.
Industry tracking says that Superbad is a sure thing with Males Under 25. The movie has a Total Aware of only 54%, but its Awareness with Males Under 25 is at 65%. Definite Interest is at 39% overall, but Interest with Males Under 25 is at 53%. To put that in perspective, Ghost Rider had 53% Definite Interest with Males Under 25 on its opening day, while Blades of Glory was released with a 51% score in the demo, and Fantastic Four: Rise of the Silver Surfer was at 50%.
There are 2 factors that will limit Superbad's upside. First, it will likely be only a 2 quadrant film, at least on opening weekend. Definite Interest among Under 25 Females is at 41% (decent), but the raucous comedy is at only 24% with Males 25 Plus and 18% with Females 25 Plus. Also, the R rating will keep hordes of teens from seeing the movie (at least legitimately). As of this moment, it looks like the film should open in the $25M-$30M range, but my guess is that it will "have very good legs" in the weeks to come.
Warner Bros will release Invasion this weekend, and despite the presence of Oscar winner Nicole Kidman and 007 Daniel Craig, it has no real chance for success. This is the 4th version of Jack Finney's 1954 novel The Body Snatchers, and I can't help but think that, in a summer where the Autobots fought off an invasion of the planet by the Decepticons with spectacular results in Transformers ($300M+ domestic), the pod-people paranoia of Invasion feels a bit "soft."
Quick. How many live action Nicole Kidman movies have topped $100M domestic? The answer is just 1 (Batman Forever – $184M). Aside from Batman, she's never had a live action opening of more than $23M. (I'm not including her voice work in Happy Feet in the discussion.) Kidman is among the world's finest actresses with films like To Die For, Moulin Rouge!, The Hours and Cold Mountain on her resume, but she's, by no means, a sure thing at the box office.
Invasion, meanwhile, is Daniel Craig's follow-up to the monstrous success of Casino Royale. This guy is a very serious actor, who was a student at the Britain's National Youth Theatre at the age of 16 and later graduated from the prestigious Guildhall School of Music & Drama, whose alumni include Ewan McGregor, Alfred Molina, Orlando Bloom, David Thewlis and Joseph Fiennes. Craig parlayed interesting supporting roles in Lara Croft: Tomb Raider, Road to Perdition and Sylvia into a star turn in Matthew Vaughn's 2004 gangster thriller Layer Cake. After a major role in Steven Spielberg's Oscar nominated Munich, he became the 6th man to play James Bond, and, it's safe to say that he has a chance to be the best 007 since Sean Connery.
Invasion has only a 13% Fresh rating on Rotten Tomatoes and just a 45% Positive score at MetaCritic. The consensus is that the film is painfully conventional with badly miscast stars.The tracking bodes very poorly with a Total Aware of just 67%, Definite Interest at only 27% and a First Choice number of a meager 4%. I'm told that Warner Bros is buying lots of late week TV advertising in a bid to avoid embarrassment, but my hunch is that it's too little too late. I'm looking for Invasion to score something in the $9M-$12M range for the weekend.
Here is my forecast for this weekend (8/17-19):
1. Superbad (Sony) – $27.5M
2. Rush Hour 3 (New Line) – $22M
3. The Bourne Ultimatum (Universal) – $19.3M
4. The Invasion (Warner Bros) – $11M
5. The Simpsons Movie (Fox) – $5.6M
6. Stardust (Paramount) – $5.25M
7. Hairspray (New Line) – $4.3M
8. The Last Legion (MGM/Weinstein) – $3.75M
9. Underdog (Buena Vista) – $3.5M
10. I Now Pronounce You Chuck & Larry (Universal) – $3.25M
Read a more indepth Box Office tracking report at FantasyMoguls.com.