Contest: Yellow On DVD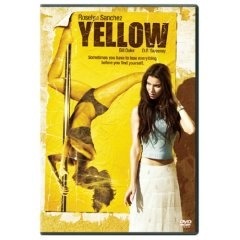 Yellow hit DVD store shelves on July 31st, and we have a copy for one lucky /Film reader. All you need to enter is to e-mail us with the reason why you should win. On August 7th we will e-mail the winner with the best answer. More information on the release can be found after the jump.
Roselyn Sanchez (Rush Hour 2, TV's "Without a Trace") and D.B. Sweeney (The Cutting Edge) star in this romantic drama about a young dancer who travels from her native Puerto Rico to New York City to follow her dream of becoming a professional dancer.
After the death of her crippled father, who was once a great ballet star in New York City, Amaryllis (Sanchez), decides to move from her native Puerto Rico to the Big Apple in search of a new life. Upon her arrival, with no job and nowhere to live, Amaryllis turns to working in a strip club to make ends meet. She quickly creates a new family in New York by befriending an older man in her building, a washed-out poetry professor named Miles Emory, as well as her co-workers at the strip club. Increasingly desperate, Amaryllis seriously injures herself during a performance one night at the club, only to be saved by Christian (Sweeney), a doctor in the audience.  Miles' poem "Yellow" inspires Amaryllis to seek a Broadway dancing job and her emotional connection to Miles helps to give him a reason for living that eluded her father. As Amaryllis' relationship with Christian turns into a love affair, she must make a choice between the security of his love and following her dream.
Yellow Special Features Include:
* Deleted scenes
* Interview with Roselyn Sanchez