Contest: The Host On DVD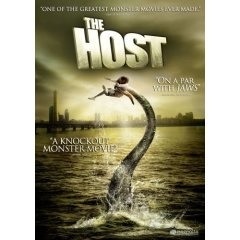 The Host hit DVD store shelves on July 24th, and we have a copy for one lucky /Film reader. All you need to enter is to e-mail us with the reason why you should win. On August 3rd we will e-mail the winner with the best answer. More information on the release can be found after the jump.
A creature emerges from the Han River's shores for a feeding frenzy upon onlookers. When a young girl is snatched in the melee, her family set off to recover her from the monster that the government claims to be a host of an unidentified virus.
Crazily funny and wildly entertaining" (Premiere Magazine), THE HOST is a "terrific hybrid-genre fantasy and a seriously scary freakout" (The New York Times). Magnolia Home Entertainment unleashes this spectacular monster movie on DVD, Blu-Ray and HD-DVD July 24. Thrusting a normal, multi-generational family into the middle of an extraordinary event, THE HOST fuses poignant character drama with the larger-than-life conventions of a classic creature feature for a fresh, thrilling and startlingly emotional result "on a par with JAWS" (Ain't It Cool News). Boasting state-of-the-art special effects from the digital wizards at Weta Workshop (King Kong, Lord Of The Rings) and The Orphanage (Harry Potter & The Goblet Of Fire, Sin City), THE HOST maintains its humanity â€" and darkly comic ingenuity â€" by never losing sight of its offbeat core: the trials of an unremarkable family pitted against a larger-than-life mutant monster. The talk of the 2006 Cannes International Film Festival and the latest film from critically acclaimed director Bong Joon-ho (Barking Dogs Never Bite, Memories Of Murder), "the most original, exhilaratingly scary-funny monster movie in many a season" (LA Weekly) quickly became the highest grossing South Korean film of all time, earning an unprecedented $93 million at the Korean box office…a truly remarkable figure, considering that the country is home to 45 million people. "Destined to become a cult classic" (Instinct Magazine)