Must Watch: Michel Gondry's Be Kind Rewind Movie Trailer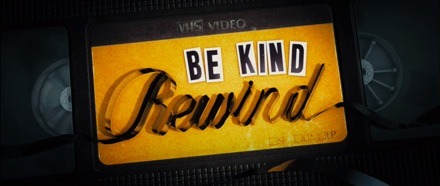 We promised you yesterday, and now here it is. The official version of Michel Gondry's (Eternal Sunshine of the Spotless Mind, The Science of Sleep) Be Kind Rewind movie trailer is now online for your viewing pleasure. Check it out after the jump, followed by seven new production photos
Be Kind Rewind follows Jerry (Jack Black), a junkyard worker who attempts to sabotage a power plant he suspects of causing his headaches. But he inadvertently causes his brain to become magnetized, leading to the unintentional destruction of all the movies in his friend's (Mos Def) store. In order to keep the store's one loyal customer, an elderly lady with a tenuous grasp on reality, the pair re-create a long line of films including The Lion King, Rush Hour, Ghostbusters, When We Were Kings, Back to the Future, Driving Miss Daisy, and Robocop , putting themselves and their townspeople into it. They become the biggest stars in their neighborhood.
[flv:http://www.slashfilm.com/wp/wp-content/trailers/bekindrewind.flv 470 200]
Jack Black and Mos Def running around in home-made Ghostbuster suits is absolutely classic. Who would have thought that a Michel Gondry comedy would bring that feeling of the magic of filmmaking to the world. A film like this is very inspired considering the current rise of the user generated content generation (ie YouTube). Be Kind Rewind hits theaters on December 21st 2007 in limited markets.
You can watch the trailer in High Definition on Yahoo Movies. Seven production photos can be seen below [via: Filmick]. As always, left click to enlarge.