Be Kind Rewind Movie Trailer Coming Soon (Or On YouTube)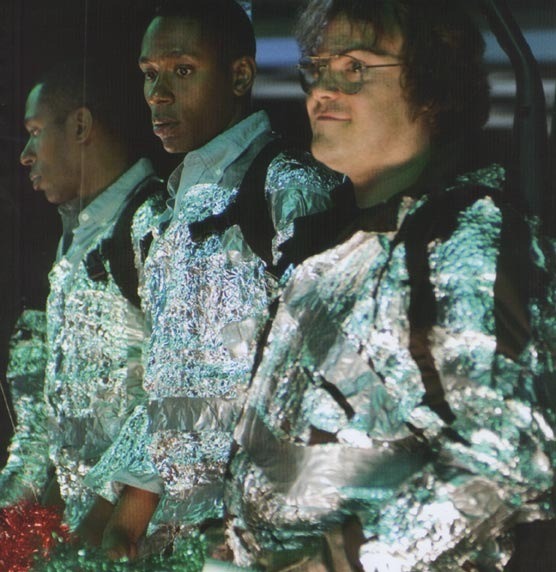 I don't exactly understand how I missed it, but the trailer for Michel Gondry's (Eternal Sunshine of the Spotless Mind, The Science of Sleep) new comedy Be Kind Rewind premiered at Comic-Con last weekend. Someone taped the screen and uploaded the video to YouTube, but I could never recommend watching a handheld video taped version (although, I personally couldn't resist). [Please read my mini-rant about this at the end of this posting]
BEFORE you start searching for it, keep on READING...
You won't have to wait much longer, the trailer is set to premiere in front of Rush Hour 3 this Friday. But fear not, you won't have to pay for a crappy Brett Ratner movie just to see this very cool trailer. I've been told it will premiere online tomorrow or Thursday.
Be Kind Rewind follows Jerry (Jack Black), a junkyard worker who attempts to sabotage a power plant he suspects of causing his headaches. But he inadvertently causes his brain to become magnetized, leading to the unintentional destruction of all the movies in his friend's (Mos Def) store. In order to keep the store's one loyal customer, an elderly lady with a tenuous grasp on reality, the pair re-create a long line of films including The Lion King, Rush Hour, Ghostbusters, When We Were Kings, Back to the Future, Driving Miss Daisy, and Robocop , putting themselves and their townspeople into it. They become the biggest stars in their neighborhood.
Be Kind Rewind hits theaters on December 21st 2007 in limited markets.
Peter's Mini-Rant Against Trailer Piracy
There should not be a such thing as "Movie Trailer Piracy." It's a ridiculous concept in the first place – people stealing advertisements. Studios should be happy that movie-goers are interested in their product. It's illegal yet, I understand that consumer demand will always result in an bootleg offering. This is something that more movie studios also need to learn, as I'm sure nobody involved with the films want people to view a trailer in this trashy format. So why not offer an official online release to feed the demand?
It's not like a trailer that debuts in front of 7,000 screaming fanboys at Comic-Con isn't ready for mass consumption. Paramount did a good job releasing the Beowulf trailer, preventing many megabytes of pirated cellphone videos from cropping up online. I can also understand the argument that Comic-Con is a "special event," and that releasing footage online during or soon after the convention could devalue panel attendance. However, I waited in line for hours to get into Hall H, and saw hundreds or maybe even thousands of people turned away at the door. The fans will come regardless of if the footage will be uploaded to Apple or Yahoo on Monday.
So Paramount, where is the Iron Man footage/trailer? We're all sick of watching the crappy versions on YouTube.