Rumor: Tom Cruise To Cameo In JJ Abrams' Star Trek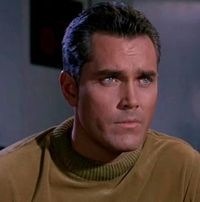 IGN is reporting a juicy rumor that JJ Abrams is trying to convince Mission: Impossible III star Tom Cruise to do a cameo in the upcoming Star Trek prequel. If Cruise said yes, he would play Captain Christopher Pike, James T. Kirk's predecessor as captain of the U.S.S. Enterprise and Mr. Spock's first commanding officer.
Pike's character was featured in the unaired Star Trek pilot episode, where he was portrayed by the late Jeffrey Hunter. The pilot was rejected, and the character was dropped during development of the second pilot. Sean Kenney portrayed him for new footage in a subsequent Star Trek episode.
I doubt this will happen, especially considering Viacom head Sumner Redstone's public firing of Cruise. I will say this, if it does happen, it will be a giant F-you to Redstone, Viacom and Paramount. It will be interesting to see if this happens.