R-Rated SuperBad Clip Online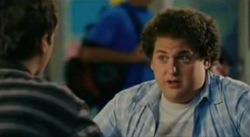 I can't stress this enough: SuperBad is the best teen comedy since American Pie. It's a must see, no questions asked. A new R-Rated clip recently "leaked" onto YouTube. It features a segment of the film where Jonah Hill tells the story of his childhood phallic drawing problem. I wonder what the MPAA must think about a clip like this being on YouTube. It's been up for five days now, so Sony and the MPAA obviously don't care.
Check it out after the jump, and see SuperBad when it hits theaters on August 17th.