SuperBad Stars Talk Fame, Green Hornet, SuperBad Sequel And More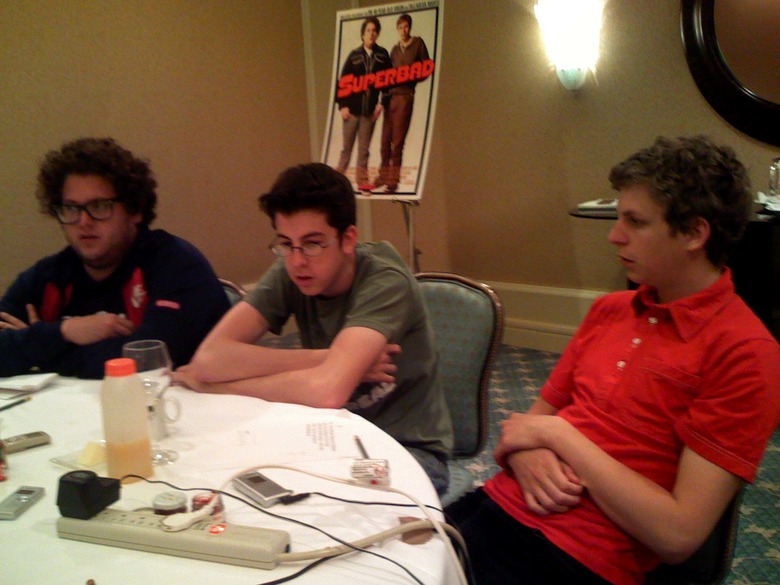 On Monday July 30th I rushed back to San Francisco, exhausted from Comic-Con, to the Four Seasons Hotel to sit down with SuperBad stars Jonah Hill, Michael Cera, and Christopher Mintz-Plasse. The trio come off as a down to earth group of friends with impeccable timing and comic awareness. I was able to catch SuperBad while at Comic-Con, and I'll say this: it's the best teen comedy since American Pie. And like Judd Apatow's other movies (he produced SuperBad), the dialogue and banter between the cast seems so real and un-movie-like. And some of that was part of the great script, and some of that was thanks to a bit of on-set Improv.
"[Improv] never changed the intention of the scene. The script was very well written," SuperBad star Jonah Hill told /Film. "James L Brooks movies always had these really good conversations that he was putting into his movies. I hate when dialogue feels like it's super-written. You can almost see the actors thinking about what they have to say."
Hill is currently writing three movie projects.
"Two for two different studios with Judd Apatow producing. I'm going to star in both of them. And the third one I'm writing with two of my friends. The one for Universal is called The Middle Child. The one for Sony is still untitled and I'm still in the preliminary. But Middle Child I'm on my third draft of, so we're hoping to find a director and start shooting soon."
Hill started his writing career on SuperBad, and helpted out on The Pineapple Express, which is also written by Seth Rogen and Evan Goldberg.
"Judd hires people that he knows are good writers. He's pushed me to write my movies."
And as for the Green Hornet Movie that Seth Rogen is signed to script, Hill says "I imagine I'll help out on it. They all live within three blocks of each other. So I imagine I'll be there when it's being written."
And as for a SuperBad sequel, Hill responds "We talked about it. But also like the movie hasn't come out yet. No one could go see it, and the talk would instantly go away of there being a sequel."
But it seems like even Jonah seems not to believe his self deprecating hypothetical. I have a feeling this movie will make lots of money. But money isn't a good enough reason to make a sequel.
"My favorite movie is Rushmore and I'd never want a sequel to that," says Michael Cera. "It's so perfect, the story is completed."
You can listen to the roundtable interview below. After the jump we have provided a listing of time-coded chapter stops.
00:00 Meeting at Henry Winkler's 60th Birthday Party
00:46 Christopher Mintz-Plasse on the "McLoving" nickname
02:45 "We are the most unexciting people you will meet. We play Guitar Hero!"
03:30 Jonah Hill's Imitation of Lindsay Lohan
05:00 Talking about Fame
06:30 Creating Realistic Banter on the Screen
08:30 Michael Cera talks Clark and Michael
08:50 Jonah Hill is writing three projects
09:40 On Writing Scripts
10:10 On Finding a Good Script
10:50 On Living the Dream
11:30 Hill: "I'm not doing an impression of [Seth in the movie]."
13:35 Meeting the Real Fogell
14:00 Hill: "knowing them, it was more like Evan was Fogell"
14:50 The Raunchy Material
15:15 Christopher's Mother Comments
16:05 The Green Hornet Movie
16:35 The Culture of Advance Movie News
17:30 The loss of Surprise in Moviegoing
18:00 The Darjeeling Limited and There Will Be Blood
18:30 An Arrested Development Movie?
18:50 The Worst Question EVER
19:05 A SuperBad sequel
19:55 Developing Comedic Style
21:20 Mixing Genres with Comedy